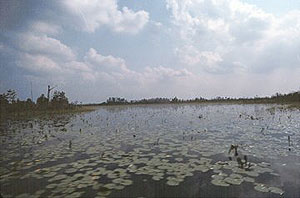 ATLANTA – From a proposed titanium mine near the Okefenokee Swamp to carpet mills in Northwest Georgia, the Georgia Water Coalition's annual Dirty Dozen report highlights threats to waterways across the state.
Rather than identifying the most polluted places in Georgia, the 2021 report released Tuesday points to projects and policies that threaten the future health of Georgia's waters and the Georgians who depend on them for their wellbeing.
Five of this year's Dirty Dozen are making return appearances on the list, including the problem of coal ash disposal.
Georgia Power is in the process of closing all 29 of its ash ponds at 11 coal-burning power plants across the state. While the Atlanta-based utility will remove the ash from 19 of those ponds, ash is being left in place in the other 10 ponds, prompting complaints from environmental groups.
Alabama-based Twin Pines Mineral is seeking permits to mine titanium dioxide at a site three miles from the Okefenokee National Wildlife Refuge, the largest black water swamp in North America. Opponents fear the mine could damage adjacent wetlands and permanently affect the hydrology of the entire 438,000-acre swamp.
In Coastal Georgia, the 30-year-old Hercules Landfill Superfund site in Brunswick still leaches toxins into groundwater. The 2019 Golden Ray shipwreck has finally been cleared from St. Simons Sound, but the extent of damage to the coast still must be evaluated.
In Middle Georgia, a proposed plastics rendering plant near Macon touted as a solution to plastics pollution is really part of the problem, the report says. Critics say the project would generate more greenhouse gases through the production, transformation and ultimate burning of fossil-fuel-based plastics.
Along the Chattahoochee River system, West Point Lake and Lake Harding are plagued by algal blooms caused by excessive nutrients.
Jet fuel and sewage spills repeatedly foul the portion of the Upper Flint River that flows beneath Hartsfield-Jackson Atlanta International Airport, causing fish kills.
In Gordon County a proposal to build a 24-house mega-chicken farm has prompted homeowners to plead with their county commission to protect their property values, well water and their river.
And in Northwest Georgia, water providers including the city of Rome are spending millions of dollars to remove from drinking water harmful chemicals generated by carpet mills.
The Georgia Water Coalition is a consortium of more than 285 conservation and environmental organizations, hunting and fishing groups, businesses and faith-based organizations founded in 2002.
This story is available through a news partnership with Capitol Beat News Service, a project of the Georgia Press Educational Foundation.