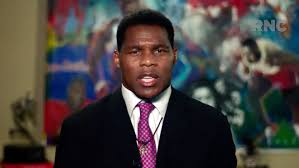 ATLANTA – A newly launched super PAC is raising money on behalf of Republican U.S. Senate candidate Herschel Walker.
34N22 will conduct fundraising, grassroots engagement, television and digital advertising, direct mail and polling in support of Walker's bid to capture next year's GOP nomination to challenge Democratic Sen. Raphael Warnock.
"Americans deserve leaders who put people ahead of politics and work across the aisle to get things done," said Stephen Lawson, spokesman for the super PAC. "As Georgia's next United States senator, Herschel Walker will use his business experience, common-sense conservative values, and record of results to bring people together to restore hope, unity, and opportunities for working families."
Super PACs are independent political action committees that may raise unlimited sums from corporations, unions, and individuals but are not permitted to contribute to or coordinate directly with parties or candidates.
Walker, who won the Heisman Trophy as a University of Georgia running back in 1982, entered the Senate race in August at the urging of former President Donald Trump. The two became friends during the 1980s when Walker signed with the United States Football League's New Jersey Generals, a pro team owned by Trump.
Other Republicans vying for the Senate nomination include Georgia Agriculture Commissioner Gary Black; Latham Saddler, an Atlanta banking executive and former Navy SEAL officer; Kelvin King, a small business owner and Air Force veteran also from Atlanta; journalist James Nestor, and attorney Jared Craig.
With President Joe Biden's approval ratings on the decline, The Cook Political Report recently moved the Georgia Senate race from "lean Democrat" to "toss up."
Last weekend, 34N22 launched its first round of digital ads in Georgia, featuring spots across Facebook, Instagram, and Google. The campaign includes targeted, geo-fenced ads surrounding locations of persuadable voter blocs.
The ads are scheduled to run until Dec. 20.
This story is available through a news partnership with Capitol Beat News Service, a project of the Georgia Press Educational Foundation.