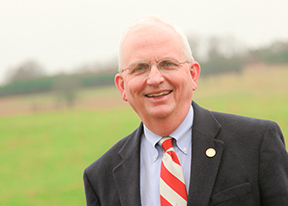 ATLANTA – Georgia Agriculture Commissioner Gary Black's U.S. Senate bid is attracting support from a significant number of Republicans in the General Assembly despite former President Donald Trump's endorsement of Herschel Walker.
Black announced Monday the endorsements of 55 GOP legislators, including Georgia House Majority Leader Jon Burns of Newington and the chairmen of the legislature's two appropriations committees, Rep. Terry England of Auburn and Sen. Blake Tillery of Vidalia.
"I have worked with these leaders on everything from agriculture policy to food safety and petroleum issues, and they know me, my priorities, and my determination," Black said. "That familiarity makes their support that much more important to me, and I am very grateful for it."
Black's list of legislative endorsements announced Monday also included House Majority Whip Matt Hatchett of Dublin, 16 House committee chairs, Senate Majority Caucus Vice Chairman Larry Walker III of Perry, and six Senate committee chairs.
Black landed endorsements earlier from former Gov. Nathan Deal, ex-U.S. Rep. Doug Collins, R-Gainesville, and three Republican members of the state Public Service Commission.
"Gary Black has proven to be one of the hardest working, most straightforward leaders I know," said Rep. Sharon Cooper, R-Marietta, chairman of the House Health and Human Services Committee.
"I have seen firsthand how he solves problems, builds relationships, and helps people in every corner in our state. As our next U.S. senator, nobody will be a better advocate for Georgia."
Black's support from Georgia elected officials could position him to wage a spirited Republican primary campaign against Walker, the University of Georgia football icon who jumped into the race last month at Trump's urging. Trump formally endorsed Walker earlier this month.
Walker's virtually universal name recognition among Georgia voters gives him an advantage over Black and two other Republicans vying for the Senate nomination: Latham Saddler, an Atlanta banking executive and former Navy SEAL officer; and Kelvin King, a small business owner and Air Force veteran also from Atlanta.
The winner of next May's GOP Senate primary will take on incumbent Democratic Sen. Raphael Warnock in the general election in November 2022.
This story is available through a news partnership with Capitol Beat News Service, a project of the Georgia Press Educational Foundation.