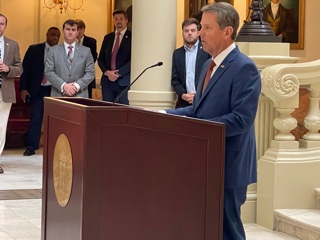 ATLANTA – Gov. Brian Kemp doubled down Thursday on his opposition to any federal mandates requiring Americans to get vaccinated against COVID-19.
"This would be a massive federal government overreach," Kemp said during a news conference updating the status of the virus in Georgia.
The governor touted new state Department of Public Health figures that, he said, show more than 53% of Georgians are fully vaccinated. He also said more than 64% of Georgians have received at least one shot.
"It's not just about vaccines anymore," Kemp said, arguing any Washington, D.C.-mandates would hurt "hardworking Georgians who work for small business, and those small business owners.  
>> Kemp, Biden spar over possible COVID vaccine mandates
"Mandates would impose unnecessary, outrageous fines," Kemp said, adding that he is working with Georgia Attorney General Chris Carr and others to file lawsuits should the White House require vaccines.
As of Thursday, according to the Georgia Department of Public Health, there have been more than 1.2 million confirmed coronavirus cases in Georgia, along with 22,354 deaths and 80,648 hospitalizations since the pandemic began.
Kemp and state Commissioner of Public Health Dr. Kathleen Toomey said hospitalizations in Georgia have dropped by one-third over the last seven days.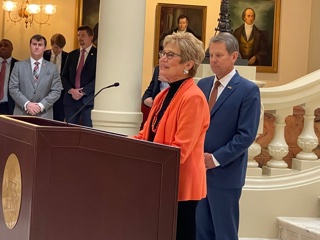 Toomey also urged Georgians to get a highly recommended booster shot which, she said, can be administered with an annual flu shot.
This story is available through a news partnership with Capitol Beat News Service, a project of the Georgia Press Educational Foundation.