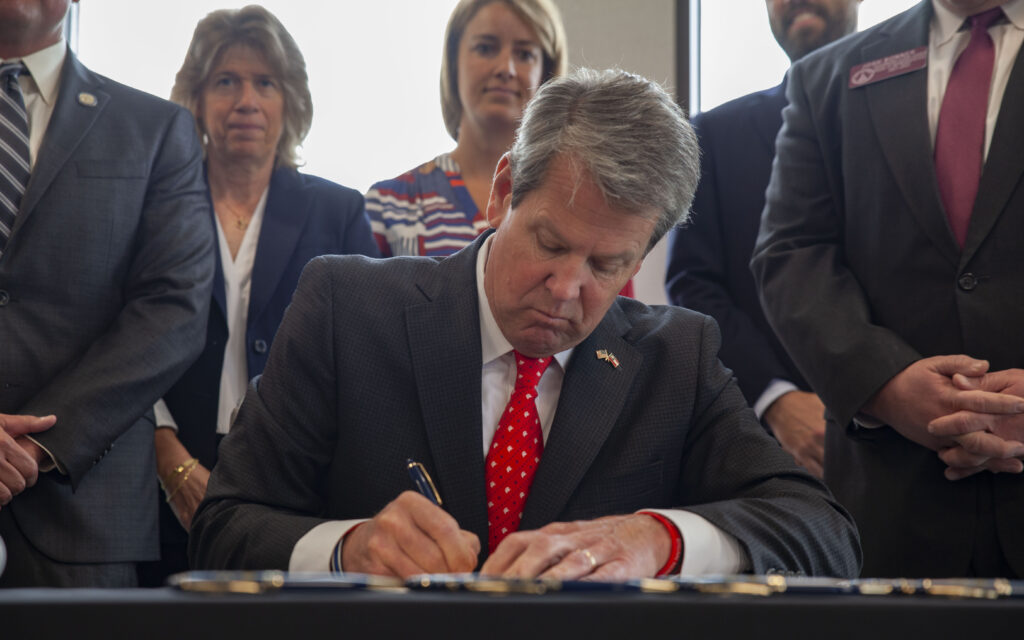 ATLANTA – The war of words between President Joe Biden and Georgia Gov. Brian Kemp over new White House COVID mandates continued Friday afternoon, with Kemp accusing the administration of playing "pandemic politics."

"Look, the public already doesn't trust the federal government because of the mixed messages about the coronavirus," Kemp told Capitol Beat. "This is pandemic politics from a president who promised to unite the country, but instead is dividing us."

On Thursday, the Biden White House issued a new, six-pronged series of COVID mandates, including a requirement for all employers with more than 100 workers to mandate either vaccinations or weekly tests.
"This is the wrong way to go," Kemp said. "Small business owners already don't have enough people in the workforce, and now they're being asked to be the vaccine police."

Earlier Friday, Biden responded to ABC News when asked about threats to challenge his vaccine measures in court.

"Have at it," the president said. "Look, I am so disappointed that, particularly some of the Republican governors, have been so cavalier with the health of these kids, so cavalier of the health of their communities. We're playing for real here. This isn't a game.

"It's the president who's being cavalier about the virus," Kemp responded. "We're allowing our local school superintendents to determine what is best for their kids. How in the world can President Biden figure out what is best for our local schools?"

Read the president's latest six-point COVID plan here.

"I don't know of any scientist out there in this field who doesn't think it makes considerable sense to do the six things I've suggested," Biden said. "We've got to come together. … The vast majority of the American people know we have to do these things."

Georgia Lt. Gov. Geoff Duncan also criticized the president's plan, saying the new mandates "only served to harden the partisan lines around an issue that requires all of us working together and not against one another. I believe the vaccine is safe, effective and the only real way out of this awful pandemic, but mandates have not and will not be the answer, as President Biden has previously stated before reversing course.

"Forcing hard-working Americans to choose between mandated personal health decisions and a paycheck will neither reduce vaccine hesitancy nor move this country in a positive direction," Duncan added.

Georgia Democrats and Republicans also weighed in Friday on the debate over COVID-19 mandates.

"With Georgians dying and our state's hospitals overwhelmed from COVID-19, Kemp is fighting everyone and everything except the virus," said Rebecca Galanti, spokeswoman for the Democratic Party of Georgia. "Between banning local governments from trying to slow COVID-19 spread and picking public fights with the federal government, Kemp is putting his own politics ahead of saving Georgians' lives."

The Georgia Senate Republican Caucus issued a statement saying its members have worked "to ensure that vaccines are easily available to everyone who chooses to get the shot. We have encouraged unvaccinated individuals to take this virus seriously and make their health-care decisions in consultation with their doctor. Our approach has struck the appropriate balance between government responsiveness and personal responsibility.

"President Biden's one-size-fits-all mandates are widely overreaching and exceed the bounds of his authority," the caucus said. "They may also set a dangerous precedent for federal executive action beyond the issue of COVID-19."

On Friday, the latest numbers from the state Department of Public Health showed 1.15 million Georgians have contracted coronavirus since the pandemic began in March 2020, with more than 20,580 deaths and 75,928 hospitalizations.

Kemp has long maintained that Georgia will not lock down again or impose statewide mask mandates. Biden's new directives didn't change his mind.
"I will pursue every legal option available to the state of Georgia to stop this blatantly unlawful overreach by the Biden administration," Kemp posted on his Twitter account.
Speaking from the White House Thursday, Biden said the estimated 80 million Americans who have not been vaccinated have made COVID-19 "a pandemic of the unvaccinated.
"And it's caused by the fact that despite America having an unprecedented and successful vaccination program, despite the fact that for almost five months free vaccines have been available in 80,000 different locations, we still have nearly 80 million Americans who have failed to get the shot."
This story available through a news partnership with Capitol Beat News Service, a project of the Georgia Press Educational Foundation.