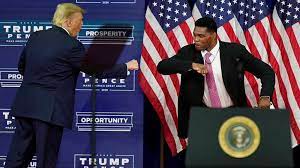 ATLANTA – University of Georgia football icon Herschel Walker officially launched his U.S. Senate campaign Wednesday with a short video touting his small-town Georgia roots and distaste for today's brand of partisan politics.
Walker filed paperwork Tuesday to seek the Republican nomination for the Senate seat now held by Democratic Sen. Raphael Warnock, instantly vaulting to front-runner status for next year's GOP primary.
The video, released on Twitter and YouTube, opens with shots of Walker's hometown of Wrightsville and footage of his athletic performances as a sprinter in track and a running back in football, culminating in his winning the Heisman Trophy as college football's best player in 1982.
"I'm a kid from a small town in Georgia who's lived the American dream, and I'm ready to fight to keep that dream alive," he said in the video.
Walker criticized the divisiveness that characterizes politics today and vowed a different approach.
"The politicians pit Americans against Americans, rich versus poor, Black versus white, urban versus rural," he said. "I don't believe in that garbage. It's a lie.
"I'm a conservative not because someone told me to be. I'm a conservative because I believe in smaller government, a strong military, personal responsibility and making sure all people have the opportunity to pursue their dreams. That's an America worth fighting for."
Georgia Democrats greeted Walker's entry into the race as proof positive that Republican infighting will hurt the GOP's chances to defeat Warnock. Walker enters a Republican contest that already features three declared candidates, with former Sen. Kelly Loeffler, who lost to Warnock in January, a potential fourth entrant.
The best known of the three candidates preceding Walker in the race, Georgia Agriculture Commissioner Gary Black, sought to lure Walker away from pre-packaged messaging like Wednesday's video, inviting him to hit the campaign trail and debate the issues in the flesh.
Walker is former President Donald Trump's pick in the race, giving him a strong base of support among Trump loyalists in Georgia. Trump has been urging Walker for weeks to enter the contest.
Other Georgia Republicans, however, are anxious that the party move beyond Trump's unsuccessful efforts to overturn the results of last year's presidential election, culminating in the Jan. 6 attack on the U.S. Capitol by Trump supporters.