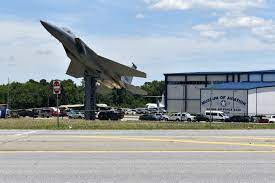 ATLANTA – The U.S. Air Force soon will replace its 30-year-old fleet of JSTARS aircraft based at Robins Air Force Base with modernized technology to meet today's threats, the Air Force and members of Georgia's congressional delegation announced Friday.
The phased-in retirement of the Joint Surveillance and Target Attack Radar System will begin during fiscal 2022 with four JSTARS aircraft, Acting Air Force Secretary John Roth said during a press conference.
All of the JSTARS aircraft will be replaced during the next five to six years with four new missions that will take advantage of the expertise Robins employees have developed during the last three decades, Roth said.
"Our intent is to leverage the workforce that's there and give them a more modern forward-looking mission," he said.
U.S. Sen. Raphael Warnock, D-Ga., said all current active-duty Robins personnel will have a role in the new missions under a commitment the Air Force made to then-Sen. Johnny Isakson in 2018. Robins currently employs 23,000 active-duty personnel, Air National Guard members and civilians.
"There's no community that loves the Air Force like Warner Robins," Warnock said. "All of us are committed to work with the Air Force to bring these missions to fruition."
Roth said the missions being assigned to Robins will include the Advanced Battle Management System, which will use a cloud-based digital system to speed data sharing and decision making in responding to threats from adversaries.
"The threats coming from China and Russia are smarter, faster and more powerful," said U.S. Rep. Austin Scott, R-Tifton, whose 8th Congressional District includes Robins Air Force Base. "We have to pick them up early."
Roth said Robins also will serve as home base for an air control squadron led by the Georgia Air National Guard that will focus on the Middle East, E11 aircraft equipped with cutting-edge communications capabilities and a spectrum warfare group capable of cyber warfare.
Roth said the Macon-to-Atlanta corridor is blessed with a huge supply of hardware and software experts who would be good fits for the spectrum warfare group.
"Robins Air Force Base is critical to our national security," said Sen. Jon Ossoff, D-Ga. "These upgrades will ensure that this base is strong for decades to come."