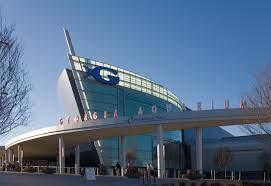 The Georgia Department of Economic Development launched a multi-pronged campaign Monday to help the state's tourism industry recover from losses suffered during the coronavirus pandemic.
During a virtual event at the Georgia Aquarium, the agency's tourism division kicked off the new marketing campaign "Ready. Set. Georgia."
Tourism officials also unveiled the 2021 edition of Georgia's travel guide and announced a new $1 million grant program funded through Gov. Brian Kemp's fiscal 2021 mid-year budget.
"As more people are vaccinated and eager to travel, tourism is a top priority for Georgia's economy," the governor said Monday. "I am committed to ensuring both its recovery and continued success."
The impacts of COVID-19 sent travel spending in Georgia plummeting nearly $12 billion last year compared to 2019, a loss accompanied by a 26.5% decline in hotel rooms sold and a 41.3% drop-off in revenue per available room.
However, since the governor never fully shut down Georgia's economy even at the height of the pandemic, the impact on the state's tourism industry was less than in many other states. National visitation data tracked by Arrivalist show that total trips to or within Georgia rose 75% in March compared to March 2020.
"Despite the challenges tourism has faced, our team at Explore Georgia found creative ways to promote safe travel in Georgia," state Commissioner of Economic Development Pat Wilson said. "All across the state, we are seeing evidence that tourism – despite the pandemic – has remained strong."
To help the recovery process along, the Ready. Set. Georgia campaign will highlight a mix of city, coastal and small-town destinations across the state, using a variety of digital and print platforms.
The free travel guide will be available online at ExploreGeorgia.org, by calling 1-800-VISIT GA, or at any of the state's nine visitor information centers.
The tourism recovery effort was announced in conjunction with National Travel and Tourism Week, which continues through May 8.