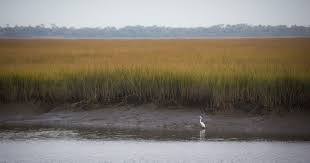 ATLANTA – The Georgia Board of Natural Resources voted Tuesday to acquire 11,662 acres of undeveloped coastal habitat in southeastern Georgia slated to become part of a state wildlife management area.
The site represents about three-quarters of the so-called Ceylon tract in Camden County. The state already has purchased the remaining 4,320 acres from The Conservation Fund and the Open Space Institute.
The Ceylon tract, the largest undeveloped tract of coastal Georgia, is located along the south bank of the Satilla River. The diverse landscape of salt marshes, tidal creeks and longleaf pine forests is home to threatened and endangered species including the gopher tortoise and indigo snake.
The site is close enough to the Interstate 95 corridor that it likely would be developed without the state and the conservation groups stepping in.
"This property is zoned to be able to take over 20,000 single-family homes, high density," said Andrew Schock, Georgia state director for the Conservation Fund. "Three million square feet of commercial space and up to two deep-water marinas all were possible on this site."
The state Department of Natural Resources (DNR) got a lot of help coming up with the $17.5 million purchase price for the acquisitions approved Tuesday. The Georgia Outdoor Stewardship Fund, a tax on the sale of sporting goods approved by Georgia voters in 2018, put up $4.6 million, Steve Friedman, the DNR's chief of real estate, told board members Tuesday.
Other contributions came from the U.S. Fish and Wildlife Service, the Atlanta-based Woodruff Foundation, the Bobolink Foundation and the Knobloch Family Foundation, Friedman said.
The U.S. Navy donated $5 million for a conservation easement, Friedman said. Leaving the Ceylon tract undeveloped helps preserve the area as a buffer to the adjacent Kings Bay Naval Submarine Base.