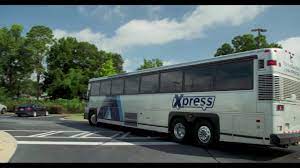 ATLANTA – Commuters to downtown and Midtown Atlanta from Bartow, Cherokee and North Cobb counties will have a new way to get to work starting Monday.
Officials from The ATL, metro Atlanta's regional transit planning and governance agency, cut the ribbon Friday on a park-and-ride lot that will service two new Xpress bus routes. The ATL oversees the commuter bus system.
The routes will use the Northwest Corridor managed lanes on Interstate 75, allowing passengers the advantage of less traffic without having to pay tolls.
"We want to provide area residents a new commuter option," Chris Tomlinson, The ATL's executive director, said shortly before cutting the ribbon at the new park-and-ride lot on Hickory Grove Road in Acworth.
Xpress ridership has declined during the coronavirus pandemic with so many workers staying home. But more than a year into the COVID-19 outbreak, the traffic load on the Atlanta region's interstate highways is nearly back to pre-pandemic levels.
"We are seeing the roads open back up," The ATL board Chairman Charlie Sutlive said. "The timing of [the new routes] really works well."
The Hickory Grove Park & Ride Lot features 522 general parking spaces and 11 handicapped parking spaces. Four spaces have been set aside as future electric-vehicle charging stations.
The facility also has three bus shelters, four seating benches and six leaning benches.
The Xpress buses feature WiFi and a ventilation system designed to neutralize viruses.
Tomlinson said the two new bus routes will be free of charge during the first four months of operation.
With the addition of the routes, the Xpress system will operate 29 commuter routes in 12 metro-Atlanta counties connecting suburban and exurban commuters with major job centers in downtown Atlanta, Midtown Atlanta and the Perimeter Center.