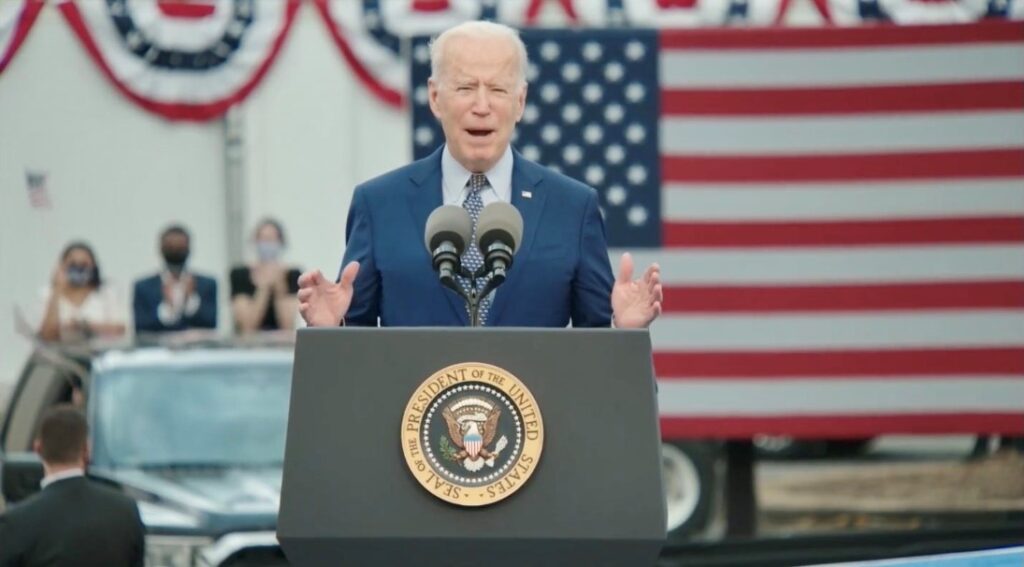 Marking his 100th day in office, President Joe Biden swung through metro Atlanta Thursday to highlight Georgia's pivotal role in securing his election and easing passage of his legislative priorities.
Biden, the first Democratic presidential nominee to carry Georgia since 1992, spoke at a drive-in rally in Duluth where he pressed for support to hike taxes on high-wage earners and corporations, plus national legislation to curb some impacts from Georgia's recent controversial voting law changes.
Biden was joined by First Lady Jill Biden and several Georgia leaders at the Duluth stop including U.S. Sens. Raphael Warnock and Jon Ossoff, whose wins in January handed Democrats control of the White House and Congress.
"We owe special thanks to the people of Georgia," the president said at Thursday's rally. "Because of your two senators, the rest of America was able to get the help they deserved."
The Bidens also paid a visit Thursday to former President Jimmy Carter and his wife, Rosalynn, at their home in Plains. Carter was among many high-profile Georgia Democrats to endorse Biden in last year's general election.
Georgia's Republican-led election bill capped a wide-ranging speech Thursday that touched on the Biden administration's COVID-19 vaccine rollout, emergency pandemic aid, a proposed $2.3 trillion infrastructure plan and a child tax credit for lower and middle-class families that would be funded by higher taxes on the country's wealthy.
Biden, who recently called the election bill "Jim Crow in the 21st century," urged backing for two national measures that would reverse some changes to mail-in and early voting rules by broadening access to mail-in and early voting and reviving oversight provisions in the 1965 Voting Rights Act.
"If we are truly to heal the soul of America … we need to protect the sacred right to vote," Biden said. "Your vote changed the world, but instead of celebrating that, it's being attacked."
The Georgia bill, which Gov. Brian Kemp signed last month after party-line approval in the General Assembly, requires tighter absentee voter identification, empowers state officials to take over poor-performing county election boards, expands early-voting weekend hours and bans non-poll workers from handing out food and drinks within 150 feet of voters waiting in line outside precincts.
Republicans have defended Georgia's election bill as needed to boost confidence in Georgia's election system amid former President Donald Trump's claims of voter fraud, which state election officials and federal courts repeatedly rejected.
Kemp, who faces a possible rematch against Democrat Stacey Abrams in 2022, slammed the national voting legislation Democrats are now pushing as "an unconstitutional power grab."
"This is their insane agenda, and they're using lies, boycotts and cancel culture to ram it through," Kemp said on social media Thursday. "I'll continue to fight for secure, accessible elections."
Biden also used his speech to tout the distribution of more than 220 million COVID-19 vaccines since his inauguration, passage last month of a $1.9 trillion COVID-19 relief package and new federal hate-crimes penalties that he touched on Wednesday night in his first address before a joint session of Congress.
Biden's visit Thursday was his second trip to the Peach State since taking office. He appeared with Vice President Kamala Harris in Atlanta on March 19 to show support for the Asian-American community days after mass shootings at local spas killed eight people, mostly Asian-American women.