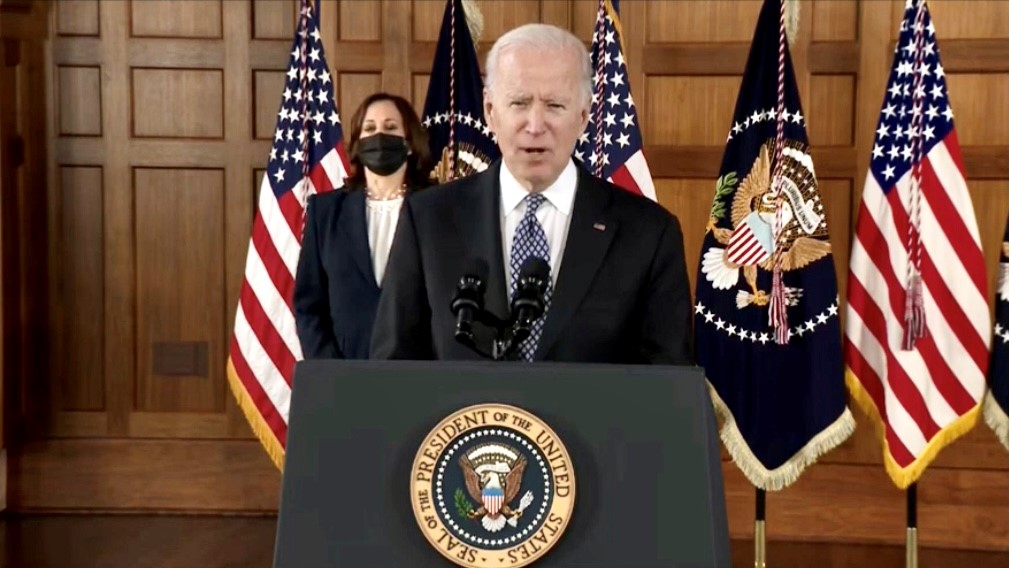 President Joe Biden swung through Atlanta Friday in his first trip to Georgia since winning the 2020 election to show support for the Asian American community after this week's mass shootings at local spas and to tout the $1.9 trillion COVID-19 federal relief package.
Joined by Vice President Kamala Harris, Biden canceled a planned evening rally in light of the shootings at three spas that killed eight people including six Asian women. Biden and Harris instead met with local Asian-American leaders and visited the Atlanta-based federal Centers for Disease Control and Prevention (CDC).
The slayings, admitted to by a lone white gunman, sparked nationwide calls for solidarity with the Asian American and Pacific Islander community. Speaking at Emory University, Biden called on Congress to pass federal legislation against hate crimes targeting Asian Americans and Pacific Islanders.
"Hate can have no safe harbor in America," Biden said. "It must stop, and it's on all of us, all of us together, to make it stop."
The president and vice president met with Asian-American state lawmakers from metro Atlanta including Reps. Marvin Lim, Bee Nguyen and Sam Park, and state Sens. Michelle Au and Sheikh Rahman. They were also slated to meet with Atlanta Mayor Keisha Lance Bottoms and 2018 Democratic gubernatorial candidate Stacey Abrams.
Biden, the first Democratic presidential candidate to carry Georgia in nearly three decades, also stopped by the CDC's headquarters near Emory to help boost morale among public-health officials who have battled COVID-19 for longer than a year now.
"We owe you a gigantic debt of gratitude," Biden said. "And we will for a long, long, long time."
Additionally, the president touted his signing last week of the new COVID-19 relief package that includes billions of dollars to fund COVID-19 testing and vaccine production, emergency rental assistance, extended higher unemployment benefits and $1,400 stimulus checks for most Americans.
He highlighted Georgia's $8.3 billion share of state and local aid funds in the package plus another $4 billion to help the state's K-12 schools reopen safely. That's on top of a $1,600 tax credit for more than 1 million low-income Georgia families, a $27 bump in supplemental nutrition benefits per person and a roughly $1,000 earned-income tax credit for adults.
Biden also hailed Georgia as the deciding battleground state that handed Democrats control of both chambers in Congress with U.S. Sens. Jon Ossoff's and Raphael Warnock's recent runoff wins, which cleared the way for last week's passage of the latest round of COVID-19 relief.
The president urged opposition to GOP-brought state legislation in the General Assembly aimed at bringing broad changes to Georgia's absentee and early voting systems, which Republicans have framed as necessary to bolster election integrity. Democrats call the proposals attempts at voter suppression.
"We're in a fight again," Biden said. "It's a fight we need because if anyone ever doubted that voting matters, Georgia just proved it did. … If anyone ever wondered whether voting can change a country, Georgia just proved it can."
Biden also stressed Georgia under the new relief package is now eligible for $2 billion in federal payments to fully expand Medicaid coverage for low-income residents, though Republican Gov. Brian Kemp and the state's GOP-controlled legislature have opposed that expansion due to costs.
Kemp, who did not meet with the president, lobbed criticism ahead of the visit over the aid package's formula for apportioning funds to states based on their unemployment rates instead of population sizes, as was the case for earlier pandemic relief packages divvied out since last March.
The governor has also sought to tamp down criticism over the pace of Georgia's COVID-19 vaccine program, which has lagged behind many other states since rolling out in mid-December but is poised for a major boost with the addition of the Johnson & Johnson-brand vaccine to weekly shipments.
Kemp's office highlighted more than 3 million vaccines have been administered as of late Friday, of which roughly one-third have gone to Georgians ages 65 and older who are among the state's most vulnerable populations.
"Georgia continues to make significant strides in protecting our most vulnerable citizens in the fight against COVID-19, with 72% of our seniors receiving at least one dose," Kemp said in a statement Friday.
"This targeted, data-driven approach to prevent hospitalization and death at the hands of the virus, coupled with increases in supply from the federal government, has allowed the state to move quickly in expanding vaccination criteria."
Groups currently eligible for COVID-19 vaccines in Georgia include all residents ages 55 and older, health-care workers, nursing home residents and staff, first responders, judges, courtroom staff and people with physical, mental and behavioral health conditions.
State officials have opened nine mass vaccination sites in Atlanta, Macon, Albany, Savannah, Columbus, Waycross and Bartow, Washington and Habersham counties.
More than 841,000 people had tested positive for COVID-19 in Georgia as of Tuesday afternoon, with more than 201,000 more reported positive antigen tests indicating likely positive results. The virus has killed 16,905 Georgians.