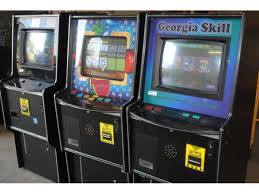 ATLANTA – Legislation that would make significant changes to regulations governing Georgia's coin-operated amusement machines (COAM) got some pushback Monday from lobbyists representing the industry.
Senate Bill 217 doesn't strike the proper balance between the owners of the machines and owners of the convenience stores where the machines are located, Les Schneider, representing the Georgia Amusement & Music Operators Association, told members of the Senate Regulated Industries & Utilities Committee.
Under the bill, any contract between a machine owner licensed by the Georgia Lottery Corp. and a new COAM location would run for one year. After that, contracts could be renewed only for one year or seven years.
"This is a three-legged stool," Schneider said, referring to the lottery, machine owners and location owners. "There can not be a perception that locations are chattels to master license holders."
The bill stems from a Senate study committee that held several hearings last summer and fall.
Among other things, the panel endorsed the possibility of awarding gift cards to game winners as a way to discourage cash prizes, which are illegal under state law. Gift cards would be redeemable for gasoline and merchandise sold at the convenience store.
The gift card provision is part of a COAM bill the House Regulated Industries Committee approved last week. But the gift card is absent from the Senate measure.
Sen. John Kennedy, R-Macon, the Senate bill's chief sponsor, said the lottery corporation is currently conducting a pilot program using gift cards.
"We need to wait and see what we learn from the work they're doing," he said.
Josh Belinfante, representing COAM machine owner Ultra Group, also complained about the provision in Kennedy's bill locking in contracts between machine owners and location owners to one year with the seven-year option. He said he supports the House bill, which offers more flexible language governing contracts.
The committee did not vote on the Senate bill Monday. In fact, Chairman Bill Cowsert, R-Athens, suggested it might be better to wait for the House bill to clear that chamber and make its way over to the Senate.
"We've got an unfinished product right now, not ready for action," he said.
Cowsert said the Senate might not have time to "perfect" Kennedy's bill before Crossover Day, the deadline for bills to pass a legislative chamber in order to be considered further. Crossover Day is set for next Monday.