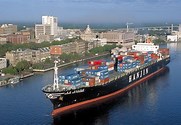 ATLANTA – The Port of Savannah set a record for containerized cargo volume in October, the Georgia Ports Authority (GPA) reported Monday.
The nation's busiest export hub handled an all-time high 494,095 twenty-foot equivalent container units (TEUs) in October, an increase of 8.3% over October of last year. The October total broke the previous monthly record of 441,600 TEUs set in August.
The tremendous growth Savannah is experiencing is the main reason the authority is expanding the port's capacity, said Will McKnight, chairman of the GPA's Board of Directors.
"Our long-term infrastructure investments ensure cargo fluidity as Savannah's container trade increases," McKnight said. "By improving our berthing for today's larger vessels, expanding container storage and doubling our rail lift capacity, we're making sure the GPA is ready when our customers are ready to grow."
A prime example of the infrastructure improvements underway at the Port of Savannah is the Mason Mega Rail Terminal, which is now more than 75% finished. In the latest milestone for the project, rail cars began traveling along newly installed track linking the Garden City Terminal's Chatham and Mason rail yards.
When completed, the Mason Mega Rail Terminal will give the port enough additional capacity to ship goods to cities in the nation's Mid-South and Midwest regions.
While there's no guarantee the container trade at the Port of Savannah will continue to increase so quickly, GPA Executive Director Griff Lynch noted the recent growth came during a global pandemic.
"To have achieved all-time record volumes in two of the last three months is a tribute to the hard work and collaboration between GPA and our partners throughout the supply chain," Lynch said.
Meanwhile, the ports authority also broke a record in October for handling vehicles and machinery units at the Port of Brunswick.
The port moved 78,772 roll-on/roll-off units during the month, an increase of 24% over October 2019. The previous monthly record was set back in April 2015.