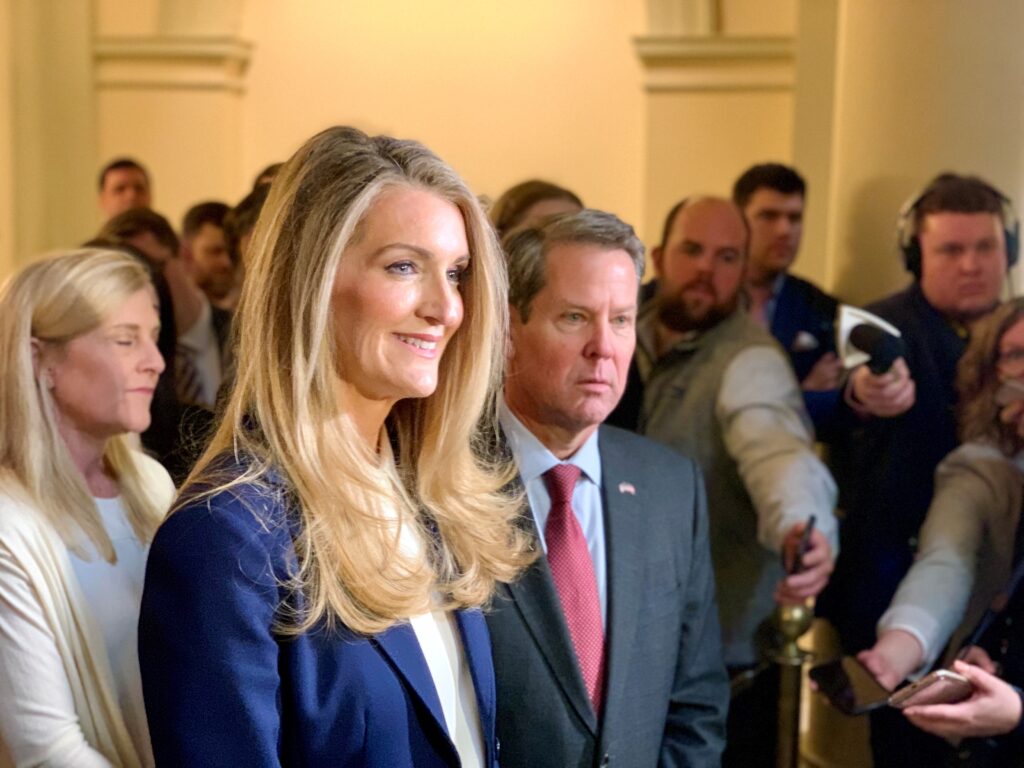 U.S. Sen. Kelly Loeffler, R-Ga., is pushing legislation to create a federal database of criminal street gang members and broaden what actions would be considered a gang-related federal crime.
The bill, called the "Cracking Down on Gangs and Deporting Criminals Act of 2020," would add 10 years to a convicted gang member's sentence for certain acts including recruitment, witness intimidating and threatening members who want to leave a gang.
The bill also would create a gang database logging information on gang members from federal, state and local police agencies and refer undocumented persons with gang convictions to the U.S. Department of Homeland Security for deportation.
Loeffler sponsored the bill with Sen. Marsha Blackburn, R-Tenn., and Sen. Tom Cotton, R-Ark.
"We must not only work to prevent the formation of gangs, but also to track their members and hold them accountable for their vile actions so we can end the violence and keep the American people safe," Loeffler said.
Loeffler, an Atlanta businesswoman running in a heated race to hold her Senate seat, introduced the gang legislation earlier this week as she seeks to craft an image as a law-and-order candidate in contrast to her Republican opponent, U.S. Rep. Doug Collins.
Recently, she has slammed Collins' record as a former defense attorney, releasing campaign ads and social media posts highlighting certain clients Collins' former law firm assisted in court. Collins' campaign has called her a wealthy appointee out-of-touch with voters, routinely mocking her use of a private jet.
The bill drew praise from top Georgia officials including Gov. Brian Kemp, Attorney General Chris Carr and the Georgia Bureau of Investigation's director, Vic Reynolds. Kemp, who appointed Loeffler, has made cracking down on gangs a pillar of his first term as governor.
"Her bill will strengthen penalties against convicted gang members, aid in the deportation of illegal aliens engaged in criminal gang activity and support law enforcement in their efforts to track and defeat criminal organizations," Kemp said.
But gang databases in states like New York, California and Georgia have drawn criticism from advocacy groups like the American Civil Liberties Union, which warn the databases could be unconstitutional or increase racial profiling.
Kosha Tucker, an ACLU of Georgia staff attorney, said earlier this year Georgia's gang database could pose due-process issues if someone is denied bail who was never told they were placed on the database. Not knowing who is on the database could also become a terrorizing influence in communities, Tucker said.
"Communities of color shouldn't have to live in fear that at any given moment a police officer could be walking in their neighborhood, walking down their street, and assume that this community's child or family member is gang-affiliated," Tucker said in a February interview.
Loeffler was appointed to fill retired U.S. Sen. Johnny Isakson's seat until the free-for-all special election set for Nov. 3. Nearly two dozen candidates are vying to beat Loeffler including Collins and Democratic front-runner Rev. Raphael Warnock.