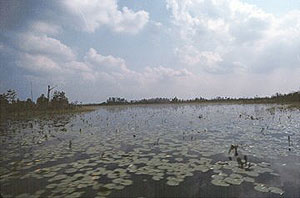 ATLANTA – More than 30 national, state, and local organizations have joined forces to oppose a proposed titanium mine near the Okefenokee National Wildlife Refuge.
The Okefenokee Protection Alliance includes the Sierra Club, Georgia Conservancy, Georgia River Network, the Southern Environmental Law Center and St. Marys EarthKeepers.
Alabama-based Twin Pines Minerals is seeking a permit from the U.S. Army Corps of Engineers to conduct a demonstration mining project on about 900 acres in Charlton County near the southeastern edge of the largest black water swamp in North America.
Opponents have raised concerns the mine could damage adjacent wetlands and permanently affect the hydrology of the entire 438,000-acre swamp.
"The new Okefenokee Protection Alliance is the first collaborative effort to have an exclusive focus on the protection of what is arguably our country's healthiest remaining wetland of significance," said Christian Hunt, Southeast program representative for Defenders of Wildlife, another member of the coalition.
"Everyone came together because of Twin Pines' permit application, but by design we intend to be active over the long-term and address the present threat that we are dealing with today, as well as future threats that stand to compromise the Okefenokee."
The alliance has introduced a new website (protectokefenokee.org) urging concerned citizens to write Gov. Brian Kemp asking him to protect the swamp.
"Just as we have reached out to folks to call on the Corps, we are reaching out to folks to call on Governor Kemp because it is not just the Corps that has a say," said Rena Peck, executive director of the Georgia River Network. "We want Governor Kemp to stand with his constituents and all the citizens in Georgia who are concerned about the mine and ask the Corps for an environmental impact statement."
Over the course of two recent public comment periods, the Corps received more than 60,000 comments, the vast majority urging the agency to deny Twin Pines' permit application.