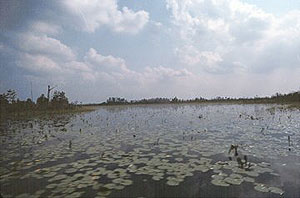 ATLANTA – Consultants for an Alabama-based company planning a titanium mine near the Okefenokee National Wildlife Refuge defended the project Wednesday at a virtual public meeting sponsored by the U.S. Army Corps of Engineers.
Twin Pines Minerals is seeking a permit from the federal agency to conduct a demonstration mining project on 1,042 acres along Trail Ridge in Charlton County, near the southeastern edge of the largest black water swamp in North America.
Environmental groups including the Georgia Conservancy and several riverkeeper organizations have raised concerns the mine could damage adjacent wetlands and permanently affect the hydrology of the entire 438,000-acre swamp.
The project's opponents are asking the Corps to require an environmental impact statement as a condition for approving the permit.
Geologists with TTL Inc. of Tuscaloosa, Ala., addressed both the need for the project and steps the applicant will take to minimize the mine's environmental impacts and restore the site after the mining is completed.
Chris Stanford, a TTL staff geologist, said titanium and zircon – another mineral to be mined at the site – have a variety of uses, including in medical equipment such as orthopedic implants, and in aircraft and nuclear reactors, due to their strength and light weight.
However, only a tiny percentage of the two minerals is produced domestically, forcing the U.S. to import the vast majority of the materials.
"These minerals are vital and are subject to supply-chain disruptions," Stanford said.
Chris Terrell, an environmental scientist with TTL, downplayed the environmental damage the mine could do to the proposed site because the area already has been degraded by decades of commercial timber harvesting and a wildfire that occurred there in 2017.
"The effects of ongoing commercial practices and the wildfire can be seen throughout the site," he said.
Nonetheless, Terrell said Twin Pines Minerals is working on a plan to offset the project's impacts on rare plant and animal species and on local wetlands.
One state-protected plant species will be relocated, as will gopher tortoises whose burrows lie in the way of the project, Terrell said.
Wetlands impacts will be mitigated through the purchase of "mitigation credits," which ensure that any losses to wetland caused by a development project are offset by preservation activities at another location so there is no net loss to the environment.
The applicant plans to mine the site for six years, moving south to north, at an average pace of 115 feet per day. The maximum depth of mining would be 50 feet.
The Army Corps of Engineers is accepting public comment on the project through May 28.