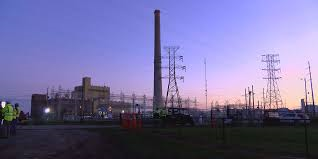 ATLANTA – Georgia Power Co. plans to convert coal ash stored at one of its retired power plants into a component of Portland cement, the Atlanta-based utility announced Tuesday.
The beneficial reuse project, a first for Georgia, will be launched later this year at Plant Mitchell near Albany. About two million tons of stored coal ash at the site will be removed.
"As part of our ash pond closure efforts, Georgia Power is always looking for opportunities to reuse coal ash that are beneficial for our customers and communities," said Mark Berry, the utility's vice president of environmental and natural resources. "The coal ash beneficial reuse project at Plant Mitchell will save space in landfills and ultimately serve to help produce a valuable product."
Coal ash is the residue left behind after burning coal to fuel power plants. It can contain a number of toxic chemicals, including lead, selenium and arsenic.
Coal ash was a controversial topic during this year's General Assembly session, which was suspended indefinitely more than two weeks ago because of the coronavirus outbreak.
Before that, Democrats pushed legislation that would require Georgia Power to install impervious liners under 10 of the utility's 29 ash ponds. Georgia Power plans to excavate and remove ash from the other 19 ponds.
But majority Republicans opposed the legislation. Instead, the state House of Representatives passed three other bills imposing additional regulations on the disposal of coal ash but stopping short of requiring liners.
Plant Mitchell was retired in 2016 as part of a Georgia Power plan approved by the state Public Service Commission. At the completion of the ash conversion project there, the ash pond site will be restored as usable property.
Separately, Georgia Power issued an initial request for proposals in January to identify and pursue other opportunities for the beneficial reuse of coal ash stored at its power plants across the state. A more detailed RFP is due to be released by the end of April to qualified bidders.
Additionally, Georgia Power plans to open a research facility later this year at Plant Bowen to identify, test and speed the development of beneficial uses for coal ash. Georgia Power will partner with the Palo Alto, Calif.-based Electric Power Research Institute on the research center.