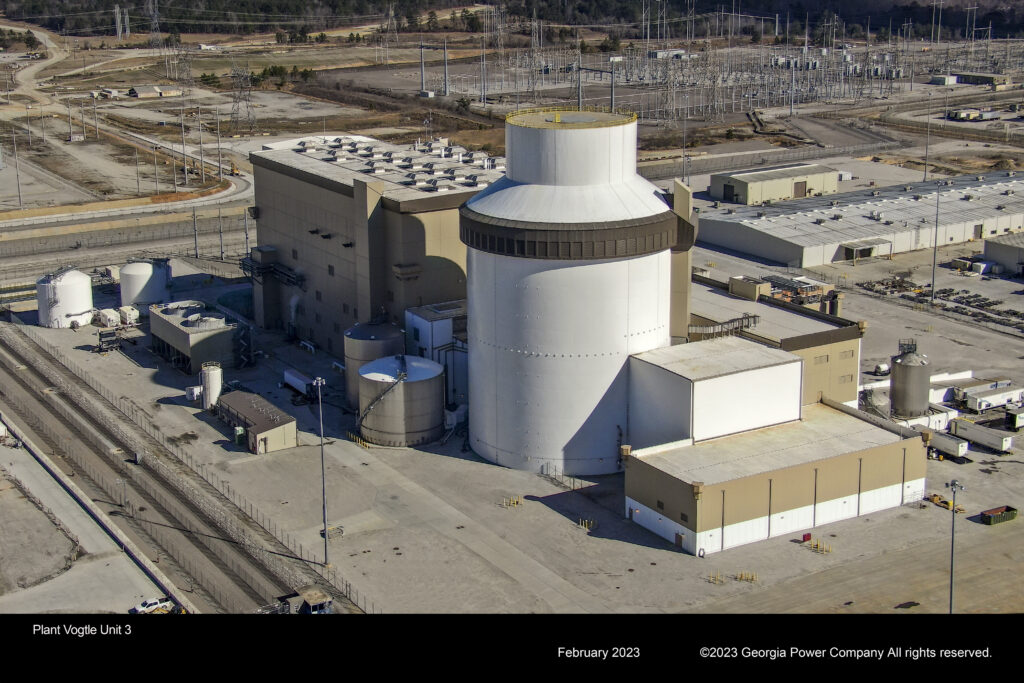 ATLANTA – The first of two new nuclear reactors being built at Plant Vogtle has gone into commercial operation, Georgia Power officials announced Monday.
Unit 3 at the plant south of Augusta went into service early Monday morning, seven years after originally scheduled and at more than double the original cost estimate.
The new unit is the first newly constructed nuclear reactor in the U.S. in more than 30 years and can power an estimated 500,000 homes and businesses.
"The Plant Vogtle 3 & 4 nuclear expansion is another incredible example of how Georgia Power is building a reliable and resilient energy future for our state," said Kim Greene, the Atlanta-based utility's chairman, president and CEO. "Today's achievement … marks the first day of the next 60 to 80 years that Vogtle Unit 3 will serve our customers with clean, reliable energy."
Chris Womack, president and CEO of Georgia Power parent Southern Co., called Monday a "historic day" for the company, for Georgia, and for the energy industry.
"With Unit 3 completed and Unit 4 in the final stages of construction and testing, this project shows just how new nuclear can and will play a critical role in achieving a clean energy future for the United States," he said.
The second new reactor, Unit 4, is projected to go into commercial operation late this year or early in 2024. Last week, the Nuclear Regulatory Commission gave its final go-ahead for Unit 4, issuing a finding that the new reactor will be operated in conformance with federal regulations.
In light of the delays and cost overruns, the project's critics for years have been calling on Georgia Power to abandon nuclear power and pursue other options including renewable energy. Last week, a panel of experts told members of the Georgia Public Service Commission (PSC) during a hearing that Georgia Power's 2.7 million customers will pay significantly more for the nuclear expansion than if the company had used natural gas.
Georgia Power officials say nuclear energy is the only zero-emission baseload energy source available today, providing high reliability and efficient operations around the clock. The company currently gets 25% of its electrical generating capacity from nuclear power, including the existing units 1 and 2 at Vogtle and Georgia's other nuclear facility at Plant Hatch in Baxley.
The cost of Georgia Power's 45% share of the project has risen to $15.2 billion, $9 billion above what the utility projected when the PSC approved the nuclear expansion 14 years ago. As a result, the average residential customer's bill will increase $14.10 per month during the first five years after the project is completed, up from the $9.60 hike in monthly bills estimated in 2009.
"While capital-intensive and expensive projects may benefit Georgia Power's shareholders who have enjoyed record profits throughout Vogtle's beleaguered construction, they are not the least-cost option for Georgians who are feeling the sting of repeated bill increases," said Bob Sherrier, staff attorney for the Atlanta-based Southern Environmental Law Center.
"For customers who have been paying for this project for well over a decade, we hope that Georgia Power and the commission will prioritize proven cost-effective solutions like solar and energy efficiency programs that will help Georgians control energy costs and lower their monthly bills."  
The other 55% of the project's costs are being picked up by three utility partners: Oglethorpe Power, MEAG Power, and Dalton Utilities.
"Nuclear energy is increasingly important to the clean energy transition, and Oglethorpe Power's significant ownership in the Vogtle construction project is a testament to the important investments we're making that drive us toward a cleaner and more sustainable energy future," Oglethorpe Power President & CEO Mike Smith said Monday.
"We understand the importance of keeping the lights on in a way that preserves both affordability and reliability – and we are proud that the clean energy generated by Unit 3 will help us deliver on that mission for years to come."