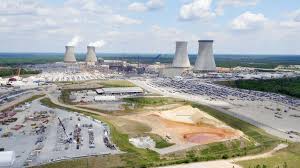 ATLANTA – The first of two additional nuclear reactors Georgia Power is building at Plant Vogtle has safely reached 100% power, a key milestone toward getting the unit into full commercial operation.
For the first time, Unit 3 at the plant south of Augusta has reached its expected output of about 1,100 megawatts, enough electricity to power an estimated 500,000 homes and businesses.
"Unit 3 is currently undergoing testing through the full range of plant operations, including safely running at various power levels and operating through real-life conditions," Kim Greene, Georgia Power's chairman, president and CEO, said Monday.
"As we enter the final stages of startup testing, reaching 100% power for the first time is an exciting milestone. It tells us we're close to finishing the unit safely and bringing it online to power Georgia homes and businesses with reliable, emissions-free energy for decades to come."
The Plant Vogtle expansion has taken a long path to get to this point. The state Public Service Commission (PSC) approved the project back in 2009, but a series of delays drove up the cost to more than double the original anticipated price tag of $14 billion.
Critics have urged the PSC to jettison the project and more aggressively pursue other sources of power generation including renewable energy. Georgia Power officials have countered that nuclear power is the most efficient way to ensure its 2.7 million customers will enjoy reliable energy for the next 60 to 80 years.
Once all startup testing on Unit 3 is successfully completed, it will enter commercial operation. That's expected to happen next month.
The other new reactor under construction at Plant Vogtle, Unit 4, is due to go into commercial service late this year or early next year.
Southern Nuclear will operate the two units on behalf of co-owners Georgia Power, Oglethorpe Power, MEAG Power and Dalton Utilities.
Units 1 and 2 at the plant began operating during the late 1980s.