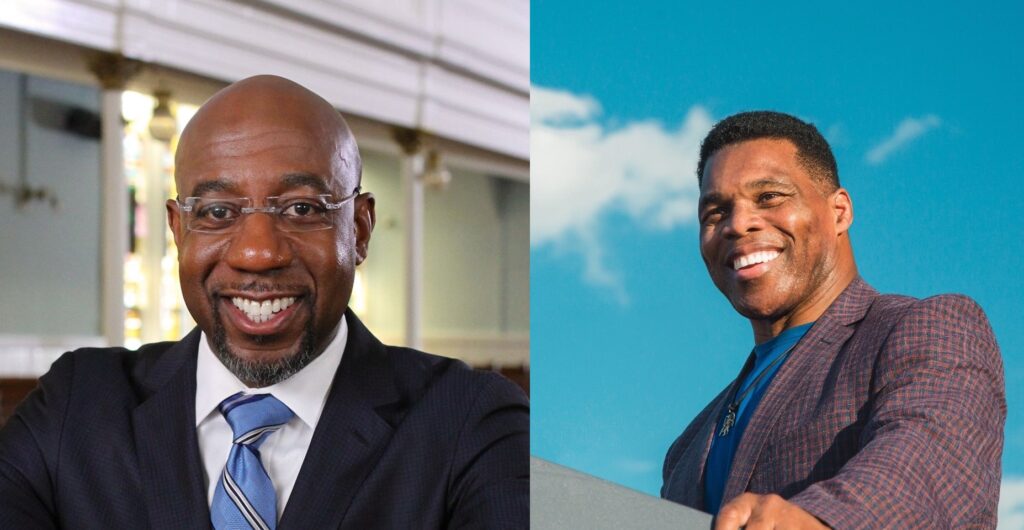 ATLANTA – Georgians get one more chance to decide whether they want to return Democratic U.S. Sen. Raphael Warnock to Washington or replace him with Republican Herschel Walker in the upcoming Senate runoff.
After neither candidate earned more than 50% of the vote in the November election – due to Libertarian Chase Oliver drawing 2% of the vote – the contest was pushed to a December rematch under Georgia's unique runoff election law.
In the general election, Warnock won 49.5% of vote while Walker won 48.5%. But it's unclear how many voters of either party will turn out, yet again, for the final vote Dec. 6.
With each candidate's policy positions already established as the race enters the final stretch, the candidates are trying to best each other on character and competence. They are crisscrossing the state to encourage voters to return to the polls – "one more time," as Warnock's campaign slogan puts it. And they are blitzing state airwaves with campaign ads.
One thing they are not doing is holding a traditional pre-Election Day debate. The two men debated each other just once in the run-up to the November election. Walker declined to attend any other debate, leaving Warnock to debate an empty podium. For the runoff, both candidates have eschewed the opportunity and a previously planned debate has been canceled.
Warnock has staked his claim for re-election in the populist steps he has taken in Washington to help Georgians. For example, he frequently touts his votes for caps on Medicare out-of-pocket costs and insulin in the Inflation Reduction Act Congress passed earlier this year. Warnock continues to call for full Medicaid expansion in Georgia which, he argues, would help bolster the state's hospital infrastructure and improve rural health care.
Warnock also points to his ability to work across the aisle as evidence of his bipartisanship. At a recent campaign stop in Macon, he noted his work with Republican Sen. Ted Cruz of Texas on getting an expansion of the Interstate 14 corridor in Middle Georgia priority status in last year's infrastructure bill. (That has not, however, stopped Cruz from attacking Warnock on Twitter recently.)
"I have been very focused on Middle Georgia," Warnock said. "Smaller rural communities and small businesses are the strength of the Georgia economy."
Walker has sought to tie Warnock to President Joe Biden and blame the Democratic duo for high inflation and crime rates.
"Y'all seen the drugs coming into this country because they want to leave the border wide open?" Walker said recently to a crowd in Cobb County.
Walker often emphasizes what he considers the problems with "woke" social policies. A recent ad features Walker sitting next to Riley Gaines, a female college swimming champion.
"I was forced to compete against a biological male. … A man won a swimming title that belonged to a woman and Senator Warnock voted to let it happen," Gaines says.
GLAAD, a national LGBTQ advocacy organization, called for Walker to remove the ad when it started running just one day after a shooting at an LGBTQ club in Colorado Springs, Colo. that killed five people.
Walker also opposes abortion. While he indicated earlier that he opposes all abortions, with no exceptions for the life of the mother or in the case of rape or incest, during the debate this fall, Walker said he supports Georgia's "heartbeat law," which bans most abortions after about six weeks but includes exceptions for rape and incest.
He has denied media reports that he paid for an ex-girlfriend's abortion and encouraged her to have a second abortion.
Warnock made his strong pro-choice position clear during the fall campaign, saying that "a patient's room is too narrow and small and cramped a space for a woman, her doctor and the United States government," and that abortion rights are protected by the fundamental right to privacy.
The Walker camp has continued a steady stream of anti-Warnock ads. One criticizes the alleged eviction of tenants in a building formerly owned by a nonprofit affiliated with Ebenezer Baptist Church in Atlanta, where Warnock is the pastor.
Warnock's campaign has denied those claims, pointing out that neither Warnock nor Ebenezer is involved in the building's management and no one in the apartment building has been evicted or kicked out since before the pandemic began.
Independent ads on behalf of Warnock take aim at Walker's alleged history of violence against women as well as his ex-girlfriend's abortion.
"Decades of violence against women," intones a narrator as a timeline of Walker's alleged violent incidents rolls across the screen. "Now, an ex-girlfriend says Herschel Walker used the threat of violence to force her to have an abortion" the ad continues, showing footage from an interview with the ex-girlfriend, whose name has not been revealed.
But ads funded directly by Warnock's campaign take a more light-hearted approach . One shows Warnock walking Alvin, a beagle who was made famous by a 2020 campaign ad, and asking "Is it just me or does it feel like we've been here before"?
"You'd think Herschel Walker would want to explain what he'd do in the Senate. … Instead, he repeats the same lies, trying to distract from what we all know is true about him," Warnock says. "But I think Georgians will see his ads for what they are," Warnock continues, as he throws a symbolic bag of dog poop away.
Both candidates are campaigning with high profile figures. Though Republican Gov. Brian Kemp kept his distance from Walker during the general election campaign, he stumped for Walker last weekend in Cobb County. And Florida Sen. Rick Scott is also continuing to campaign for Walker.
Former President Barack Obama will return to Atlanta Dec. 1 to urge Democrats to turn out for Warnock. The campaign also is sponsoring an event with rock superstars The Dave Matthews Band at a Get Out the Vote Rally in Cobb County on Monday, Nov. 28.
Early voting in some Georgia counties will begin as early as Saturday, Nov. 26. Election Day is Dec. 6.
This story is available through a news partnership with Capitol Beat News Service, a project of the Georgia Press Educational Foundation.