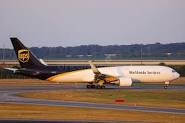 ATLANTA – Georgia will need to invest $103.7 million in air cargo improvements to meet the industry's future needs, not including investments at Hartsfield-Jackson Atlanta International Airport, a new study has concluded.
The vast majority of those improvements should occur at the airports serving Savannah and Albany, according to a report released Wednesday by the Georgia Department of Transportation.
The study, conducted from July of last year through last month, was designed to identify current and forecasted air cargo activity in Georgia and determine what new facilities or improvements to existing facilities are needed.
"Transporting goods by air is typically associated with the movement of high value, light weight, and perishable products," said Clement Solomon, the DOT's director of intermodal programs. "Air cargo is critical to Georgia's automotive industry, pharmaceutical companies, medical suppliers and more."
Solomon said a significant increase in e-commerce sparked by the coronavirus pandemic is driving higher demand for air cargo services.
Seven airports in Georgia have scheduled air cargo service, while 58 have varying levels of air cargo activity.
About $30 billion in commodities arrive and depart the Peach State by air each year, primarily from overseas. Top commodities by value include electronics, motor vehicle parts, pharmaceuticals, machinery, and transport equipment.
Of the $103.7 million in needs the study identified, $70.8 million would go to Savannah/Hilton Head International Airport. Of that, $50 million would be used to build a 220,000-square-foot air cargo building.
Another $30.3 million would go to Southwest Regional Airport in Albany. Most of those funds would be used to expand an airport apron and construct a new cargo building to coincide with the apron expansion.
Statesboro-Bulloch County Airport and East Georgia Regional Airport in Swainsboro would receive $1.3 million each for apron rehabilitation projects.
The various improvements the study contemplates would support 1,406 jobs with a cumulative salary of $53.7 million, according to the report. The projects would deliver a total economic impact of $202.6 million.
The study recommends forming an Air Cargo Working Group to, among other things, advocate for state funding of the various air cargo improvements identified in the report.
This story is available through a news partnership with Capitol Beat News Service, a project of the Georgia Press Educational Foundation.