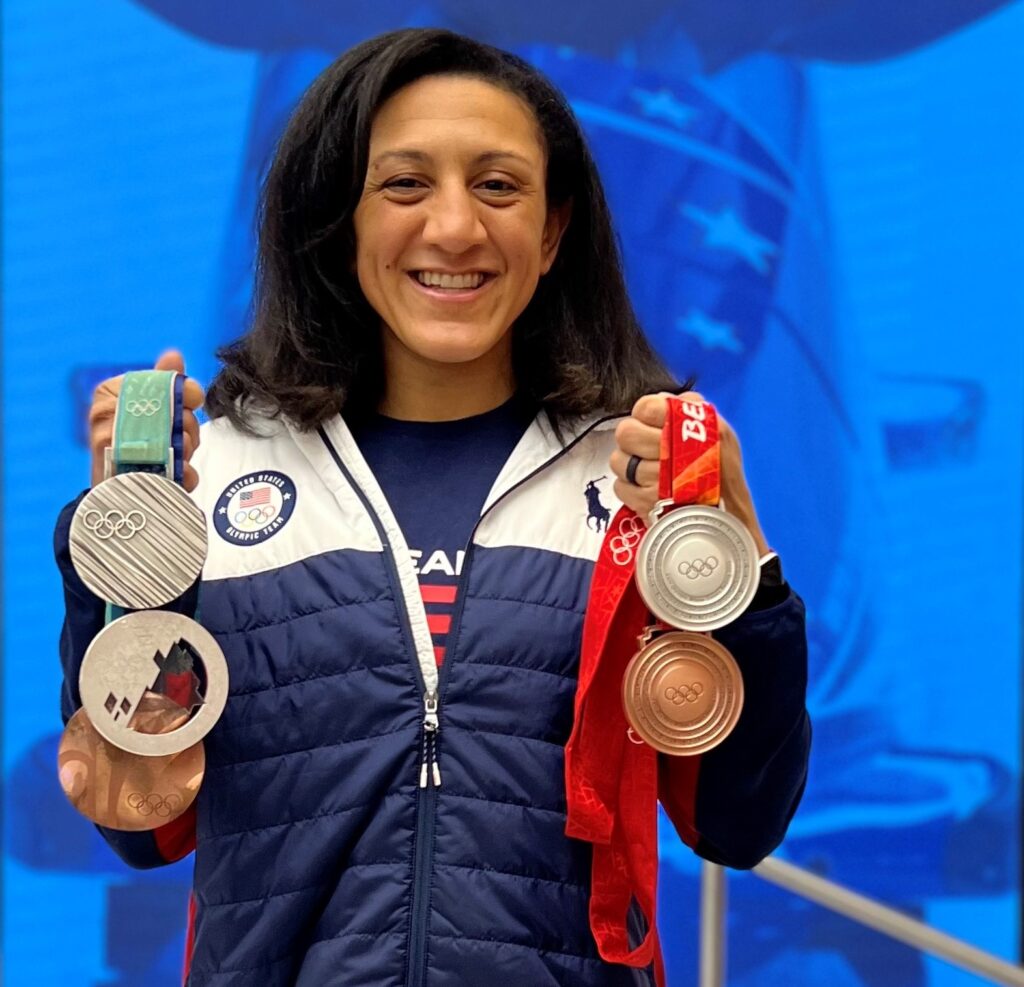 ATLANTA – Five-time Olympic medalist Elana Meyers Taylor – a champion bobsledder – is bringing her considerable talents to the Georgia Council on Developmental Disabilities council.
Taylor, who was recently named a council member, attended George Washington University on a softball scholarship and even played softball professionally.  
Taylor had nurtured an Olympic softball dream since she watched the 1996 Atlanta Olympics "up close and personal" as a child growing up in Douglasville.
When she didn't make the Olympic softball team, her parents gave her a bobsled. She emailed an Olympic bobsledding coach and began an improbable and wildly successful career as a world champion bobsledder from the Sun Belt.
Taylor is now the most decorated African-American Olympic winter athlete, having earned five bobsledding medals over the last four Winter Olympics, including a bronze medal in this year's two-woman event in China.
Taylor and her husband, fellow bobsledder Nic Taylor, are now settled back in Atlanta after stints at Olympic training centers in Lake Placid, N.Y., and Colorado Springs, Colo.
Taylor's son Nico was born in March 2020, about a week before the pandemic struck Georgia. She and her husband learned of Nico's diagnosis with Down's syndrome and hearing loss at his birth.
"It didn't matter to us," she said. "It was our son, and we were going to do whatever we could to make him the happiest kid possible."
But the couple soon felt the stigma associated with Nico's diagnosis. Taylor resisted condolences people offered.
The disconnect between how Taylor felt about her son and how the world saw Nico led her to open up their lives to NBC during this year's Olympics.
"Just showing him and showing the joy that we have on a daily basis was really important to us," she said.
"The biggest thing I would tell anybody, when faced with a diagnosis, is that we live an extremely joyous life. A diagnosis is only part of who [Nico] is but doesn't define."
Becoming a council member with the Georgia Council on Developmental Disabilities was a natural extension of Taylor's public role as an advocate for inclusion and acceptance for Nico over the past few years.  
Taylor said one priority for her is making sure that children in other parts of the state can get the same care as children in Atlanta.
A strong advocate for inclusive education for children with disabilities, she said she plans for Nico to be educated in Georgia's public schools, as she was.
Taylor pointed out there is a special education teacher shortage in Georgia. She lauded a recent teacher pay increase but said more is needed to attract people to become special education teachers.
"Without a doubt, I think the biggest myth we have to dispel within the education system … is that individuals with disabilities … might need more resources [or] might need a little more help, but they're not taking away from anything."
"There's a way for all of us to get what we need, and it's not robbing Peter to save Paul or anything like that."
Taylor – whose career has been characterized by the need for speed – said that raising Nico has forced her to slow down sometimes.
"When you go through what we've been through, whether it's hospitalizations, whether it's therapies … you value just these simple moments of sitting around as a family a lot more," she said.
Taylor said her time as a world champion bobsledder has taught her to adapt to changing and challenging circumstances.
"Not having a sled, that's a pretty good challenge to figure out a workaround," Taylor said of a time her sled was delayed before key qualifying races. "But that's every day of parenting, regardless of whether or not your child has a disability."
This story is available through a news partnership with Capitol Beat News Service, a project of the Georgia Press Educational Foundation.