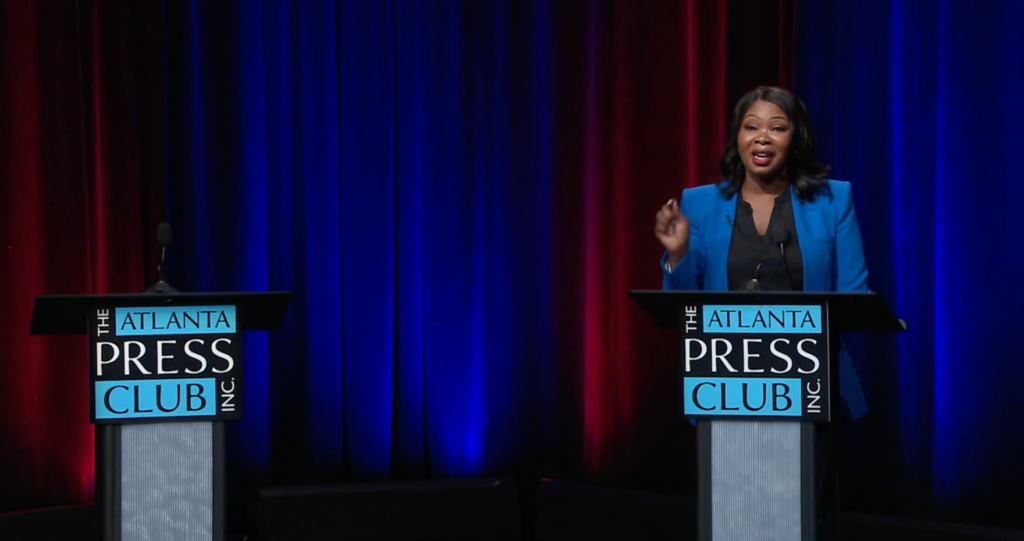 Democrat Janice Laws Robinson at the insurance commissioner runoff debate. Her opponent, Raphael Baker, did not attend.
ATLANTA – Democrat Janice Laws Robinson described her plans to hold insurance companies accountable during an Atlanta Press Club runoff debate Monday.
Robinson's opponent, Raphael Baker, did not attend the debate.
Though Robinson earned far more votes than Baker in the May primary – 48.7% for Robinson compared to 33% for Baker – the race was pushed to a runoff because neither candidate passed the 50% mark.
Robinson said that she would appoint a special deputy insurance commissioner to focus solely on health insurance and especially mental health care. The state legislature recently passed a new law that will require most Georgia insurers to treat mental and physical health equally.
"We deserve to have parity in mental health," she said. "This is so important it deserves its own accountability."
Robinson also said she would act to reduce Georgia car insurance premiums, which are among the highest in the nation.
Robinson criticized Baker for not appearing for the debate.
She also criticized incumbent Republican Insurance Commissioner John King, saying he had done little to tackle high automobile insurance rates.
Robinson said she would focus on rural firefighting resources, noting that Georgia is number nine in the country for wildfires.
Robinson said she could win the general election in November, pointing out that she nearly beat the prior insurance commissioner, losing by only 3 percentage points in 2018.
She lost to Jim Beck, who was subsequently removed from office after conviction on multiple fraud charges, leading Gov. Brian Kemp to appoint King to the post.
"I will bring integrity back to this office," said Robinson. She said that in her two decades in the insurance profession, she had never been cited with an infraction.
Robinson said that the insurance commission's recent $5 million fine on Anthem/Blue Cross Blue Shield was just a small first step.
"We need to make sure we are hitting them where it actually hurts," she said. "I will not tolerate them treating our families unfairly. … I will continue to fine insurance companies that discriminate and do not honor your claims."
The winner of the June 21 runoff will face King in November.
This story is available through a news partnership with Capitol Beat News Service, a project of the Georgia Press Educational Foundation.