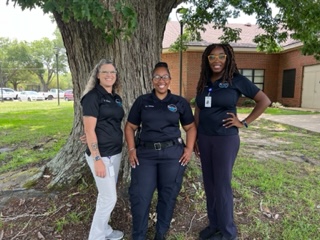 A new law championed by Lt. Gov. Geoff Duncan taking effect July 1 is expected to boost efforts to reduce the number of mentally ill Georgians landing in jail cells.
Local law enforcement agencies are increasingly turning to "co-responder" programs to deal with the number of mental health-related emergency calls. When a call comes in, mental health experts are sent out with police officers to help people suffering from mental illness or substance abuse.
About 40% of calls to law enforcement agencies are related to mental health, several police chiefs said in recent interviews.
Though statewide data is difficult to find, at least seven departments have established such programs. DeKalb County's program has been around since the 1990s, while Albany started a new program just weeks ago.
Brookhaven, Gainesville, Forsyth County, LaGrange, Athens-Clarke County, and Savannah also have co-responder programs.
Senate Bill 403 requires community service boards (CSBs) to establish a co-responder program that will provide consultations to law enforcement officers responding to people with behavioral health problems. There are 22 such CSBs across the state providing behavioral health services to Georgia communities.
The law also clarifies that mental health professionals can advise law enforcement agents on whether the person needs immediate emergency treatment or subsequent referral to services instead of arrest.
And CSB mental health staffers can look at arrest records and recommend that people in jail be provided with behavioral health treatment instead of remaining in the criminal justice system.
Duncan said he was inspired by a program in Forsyth County, where he lives.
There, the sheriff's office teamed up with the local community service board, Avita Community Partners, to help stem the tide of mentally ill people in the criminal justice system.
The Forsyth team includes three members: a police officer, a licensed clinical social worker, and a peer specialist. The police officer and licensed clinical social worker respond directly to police calls to help people on the spot.
"Examples … have included simply talking with people until emotional distress has subsided, setting up crisis plans with individuals and their families, setting up appointments with care providers, and occasionally involuntary commitment for an emergency examination," said Stacie Miller, public information officer for the sheriff's office.
Hundreds of miles away, Albany started a similar program just a few weeks ago.
The Albany program sends a peer co-responder out on calls with a mental health clinician and police officer. The peer co-responder has personal experience with mental health issues, substance abuse, and incarceration and helps the person in crisis get follow-up care.
"Their main goal really is to prevent individuals from having to be both hospitalized and/or incarcerated," said Lisa Oosterveen, deputy director at Aspire Behavioral Health and Developmental Disability Services and a moving force behind the new program.
Albany Chief of Police Michael Persley said even though his department is short-staffed, he thought it was well worth the investment to provide an officer to focus on mental health calls.
"You're either gonna pay now or pay later," he said. "And the pay later can come in the form of an incident that turns fatal. … There's too many examples where people say, 'Hey, this person, I needed the police to help, but I didn't want the police to kill [them].' "
The Forsyth County program saw a 25% decrease in the number of people suffering from mental illness booked into the county jail in the first year of the program.
But success is more often measured in individual stories and community feedback than cold, hard numbers.
"I cannot tell you how many family members have thanked us, with tears in their eyes, because we helped calm an inflamed situation or helped a loved one in crisis get to a hospital for stabilization," said Sgt. Terry Hawkins, the team leader in the sheriff's office.
Hawkins said other law enforcement officers also are grateful because his dedicated mental health team lets them focus on their core law enforcement duties.
However, the needs of people with behavioral health issues face are complex, and Georgia communities frequently lack the full complement of resources needed to achieve sustainable progress.
Much wider changes are needed, said LaGrange Chief of Police Louis Dekmar, who also sits on the state's Behavioral Health Reform and Innovation Commission and is a past president of the International Association of Chiefs of Police.
"There's no resources that really reflect a commitment to really help these people," Dekmar said.
"If you're judged by how you treat the least among us, which are children and our elderly and our folks that are affected by mental illness … I'm afraid in all three areas we as a society don't rate very high."
Still, the co-responder programs are a step toward fixing a much larger problem and preventing the criminalization of mental illness.
Gainesville Chief of Police Jay Parrish described his department's successes with its two-year-old-program as a series of small victories.
"It's not about how many we save but the ones we do save," Parrish said. "Any program is better than no program."
This story is available through a news partnership with Capitol Beat News Service, a project of the Georgia Press Educational Foundation.