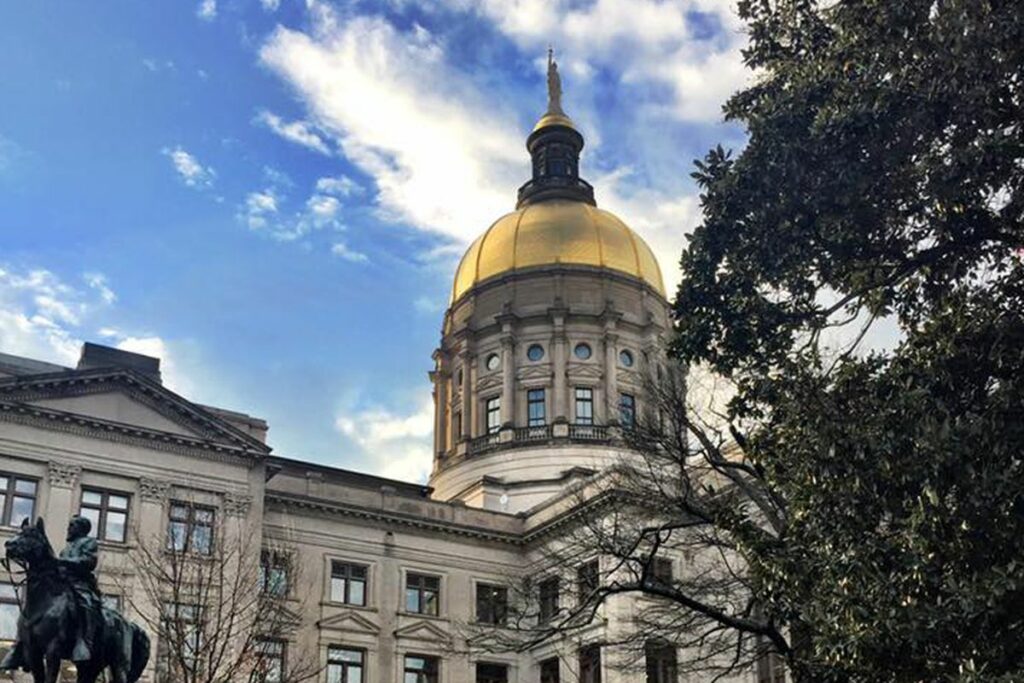 ATLANTA – Gov. Brian Kemp and legislative Republicans have assembled an impressive arsenal of weapons for the campaign trail heading into next month's primaries.
With Kemp facing a GOP primary challenge from former U.S. Sen. David Perdue, the General Assembly's Republican majority pushed a conservative agenda through the General Assembly during the just-completed legislative session, mostly with the governor's backing.
"We're going to continue to see advertisements by Kemp showing issues that appeal to the Republican base," said Charles Bullock, a political science professor at the University of Georgia. "It undercuts Perdue."
By the time lawmakers gaveled out the 2022 session a few minutes after midnight April 5, the General Assembly had given final passage to legislation that would:
let Georgians carry concealed firearms without a permit.
give the Georgia Bureau of Investigation (GBI) original jurisdiction to investigate complaints of voter fraud.
give parents a greater role in the education of their children
prohibit the teaching of certain "divisive concepts" pertaining to racism in Georgia schools.
potentially set the stage for schools to prohibit students born male from participating in girls' sports.
gradually reduce Georgia's income tax rate from the current 5.75% to 4.99% by 2029.
"This has been a historic legislative session," Kemp told members of the Georgia House of Representatives on the session's final night. "People will talk about this session for many years."
But some of that talk has been highly critical. Minority Democrats, civil and voting rights groups and education advocates railed throughout the session at what they characterized as the misplaced priorities of the Republican agenda.
"Not one school in this entire state knows anything about 'critical race theory,' " said Rev. Timothy McDonald, a pastor in Atlanta and former president of Concerned Black Clergy of Atlanta. "They're using that as an organizing tool to motivate their base."
The permit-less carry bill was high on Kemp's agenda. The governor has announced plans to sign it on Tuesday at a sporting goods store in Douglasville.
Republicans pitched the bill as promoting public safety by making it easier for Georgians to protect themselves and their families. Democrats countered that permit-less carry would lead to more gun violence on the streets.
The gun bill sailed through the legislature without opponents being able to make any significant changes, as did two of the three education bills.
The Parents' Bill of Rights establishes a process for parents who object to what is being taught to their children to pursue complaints. The "divisive concepts" legislation outlines what can and can't be taught to Georgia students concerning racism.
The bill's Republican backers said the measure does not prevent the teaching of slavery and the Jim Crow and civil rights eras. However, they must be taught in a way that doesn't cause students to feel guilty or perceive of themselves as superior or inferior because of their race.
Opponents said the bill creates so much uncertainty in interpretation that the penalties it carries would intimidate teachers into failing to teach an honest account of U.S. history, both the good and the bad.
Democrats almost managed to stop the so-called "transgender sports" bill. The original version of the measure would have prohibited students born male from taking part in most girls' sports.
When it looked like the bill was going to be killed, Republicans agreed to a watered-down version that essentially punts policymaking on the issue to a newly created oversight committee that will report to the Georgia High School Association.
House Speaker David Ralston, R-Blue Ridge, said he had concerns about the original bill.
"I think this was a more reasonable approach," he told reporters minutes after lawmakers adjourned for the year.
Another bill that underwent significant changes was an election measure intended as a follow-up to last year's broader overhaul of Georgia election law. Unlike the education bills and permit-less carry, the election legislation was not part of the governor's agenda.
By the time the bill made it through the General Assembly, it had been whittled down to a single provision allowing the GBI to investigate allegations of voter fraud without having to be called in by elections officials or the attorney general's office.
Democrats and voting-rights advocates said giving the GBI original jurisdiction over elections investigations would result in voter intimidation.
"We urge the Georgia Bureau of Investigation to quicky adopt regulations making it clear that its investigators may not obstruct elections officials in their duties, particularly before elections are certified," said Aunna Dennis, executive director of Common Cause Georgia.
While the tax cut and a separate $1.1 billion tax rebate proposed by Kemp arguably are aimed at Republican voters, Bullock said reducing taxes has broader appeal.
"Everybody loves a tax rebate," he said. "It crosses party lines and can appeal to independents."
The Georgia Public Policy Foundation endorsed the tax cut as a positive economic development measure.
"Other states around the country and especially in our Southeastern region are taking action to make themselves more competitive," said Kyle Wingfield, the foundation's president and CEO. "This strong, responsible plan will help ensure Georgia not only doesn't fall behind but remains a leader."
Another bill that received even more widespread support was an overhaul of mental-health services in Georgia that both the House and Senate passed unanimously, marking the session's high point.
"It was truly bipartisan," said Lee May, president of the DeKalb Pastors Christian Alliance. "I heard Democrats speaking highly of it. I heard Republicans speaking highly of it."
On the other hand, the session hit a low point on its final night when the state Senate tabled by one vote legislation aimed at restarting Georgia's medical cannabis program, which still hasn't gotten off the ground three years after lawmakers legalized the cultivation of marijuana in Georgia and conversion of the leaf into low-THC cannabis oil for sale to patients suffering from a wide range of diseases.
"I'm at a loss on that," Ralston said. "How long are these people going to have to wait?"
A proposed constitutional amendment asking Georgia voters whether to legalize online sports betting also fell by the wayside for the third year a row.
This story is available through a news partnership with Capitol Beat News Service, a project of the Georgia Press Educational Foundation.