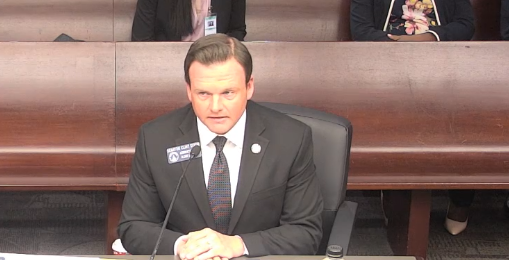 ATLANTA — A move to expand the size of the Gwinnett County Commission came under heavy partisan fire Wednesday in the Georgia Senate.
Senate Bill 6EX is sponsored by state Sens. Clint Dixon, R-Buford, and Lee Anderson, R-Grovetown.
Dixon and Anderson also have introduced a bill — Senate Bill 5EX — that would make Gwinnett school board elections a non-partisan affair, a move the Senate State and Local Governmental Operations Committee approved along party lines.
The General Assembly is holding a special session to redraw Georgia's legislative and congressional district lines. Time constraints Wednesday tabled discussion of Dixon's bill to expand the commission.
Both of Dixon's bills came under fire from House and Senate Democrats, who decried the moves as Republican power grabs in a metro Atlanta county that has become more aligned with the Democratic Party. 
"This is an overarching abuse of power and an example of meddling in local affairs with total disrespect," said Sen. Nan Orrock, D-Atlanta, who is also critical of a proposed city of Buckhead that would be carved out of the city of Atlanta.
"We have people introducing bills who aren't part of the communities that are being influenced," Orrock said. Having a majority vote in this chamber is not a license to abuse power."
Dixon said making the Gwinnett board of education non-partisan is the top issue in his district.
"Some of the proposed curriculum in my county includes the teaching of critical race theory," Dixon said. "My constituents are very concerned about radical agendas such as these being taught in our schools."
Sen. Nikki Merritt, D-Grayson, was highly critical of Dixon's moves.
"In 2018 and 2020, Gwinnett County voters chose to elect Democratic majorities to our delegation, county commission and school board," Merritt said.
"Republicans are showing their belief that local governments only exist to serve their party. They are weaponizing local legislation to force an unprecedented power grab that is attempting to take over Gwinnett, one of the most diverse counties in our state."
Dixon conceded to Sen. Michelle Au, D-Johns Creek, that he has not brought his measures to either the Gwinnett Board of Education or the commission.
"This is not a new issue, and I've had numerous discussions with my constituents," Dixon said.
The Georgia Redistricting Alliance opposes expanding the Gwinnett commission.
"Quietly dropping a bill that calls for major changes to the Gwinnett County Board of Commissioners map shows blatant disregard for any process whatsoever," the group wrote in a prepared statement.
"We have and will continue to demand that Georgians have opportunities for meaningful input toward the redistricting process at all levels of government. It is unfathomable to us that broad changes to the most diverse county in Georgia would be undertaken only in a language that a large percentage of its residents do not prefer."
State Rep. Jasmine Clark, D-Lilburn, vice chairman of the Gwinnett legislative delegation, said no Democrats in her delegation were even aware of Dixon's proposals and called the process an attack on people of color in Gwinnett.
Dixon defended expanding the commission as a way to keep pace with Gwinnett's growth.
"Gwinnett is one of the most rapidly growing counties in the state," he said. "Right now, we have four commission members representing about a quarter million people each."
Sen. Emanuel Jones, D-Decatur, said Dixon's legislation didn't include maps of the proposed new districts.
"I can't tell what I'm being asked to vote on," Jones said.
Dixon said new Gwinnett commission maps have not yet been developed but will be drawn with the assistance of state officials if the bill passes.
"Republican legislators are rushing through bills that directly impact Black and Brown communities without adequate public notice or public input," said Common Cause Georgia Executive Director Aunna Dennis. "These bills are an insult to the voters of Gwinnett County. They are completely contrary to the principle that Gwinnett County voters should be able to govern themselves."
This story is available through a news partnership with Capitol Beat News Service, a project of the Georgia Press Educational Foundation.