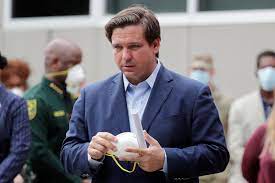 ATLANTA – Florida Gov. Ron DeSantis has absorbed a storm of criticism in the national media for refusing to let school districts in his state impose mask mandates to discourage the spread of COVID-19.
But DeSantis has launched a statewide initiative to fight the virus that could take some pressure off his state's hospitals.
The Republican governor has been crisscrossing Florida this week touting the success of monoclonal antibody treatment, which is now available at state-run sites.
"Since we've been doing those treatments, we've seen a decline in the hospital census for COVID," DeSantis said Wednesday during a news conference in Fort Myers, Fla. "We've seen a decline in the emergency visits for COVID."
While, DeSantis continues to promote vaccines as the best defense against COVID-19, some Floridians who have contracted the virus credit the treatment with keeping them out of the hospital.
Monoclonal antibodies are laboratory-produced proteins that function like the antibodies made by the immune system in response to infection. Until recently, only hospitals offered the treatment, which was done through infusions.
Florida has opened 21 centers across the state that offer the antibodies to patients at no cost. Each patient receives four injections.
Monoclonal antibody treatments typically are used to prevent patients who have tested positive for COVID-19 from getting sick enough that they have to be hospitalized.
Georgia has yet to follow Florida's example by launching a statewide initiative for monoclonal antibody treatments. However, the treatments are available at 136 locations in Georgia under a U.S. Food and Drug Administration emergency use authorization, state Department of Public Health spokeswoman Nancy Nydam said Friday.
"At this time, the Georgia Department of Public Health is exploring all options for making monoclonal antibody treatment more accessible to Georgians," Nydam said.
Georgia certainly could use the help of treatments that reduce the need for hospitalization of coronavirus patients. The state set a record for COVID-19 hospitalizations this week at 5,880, topping the previous high mark set last January.
As of Thursday afternoon, 1,103,756 Georgians had been diagnosed with COVID-19. The virus had resulted in 73,777 hospitalizations since the pandemic began in March of last year, with 23,006 confirmed or probable deaths.
This story available through a news partnership with Capitol Beat News Service, a project of the Georgia Press Educational Foundation.