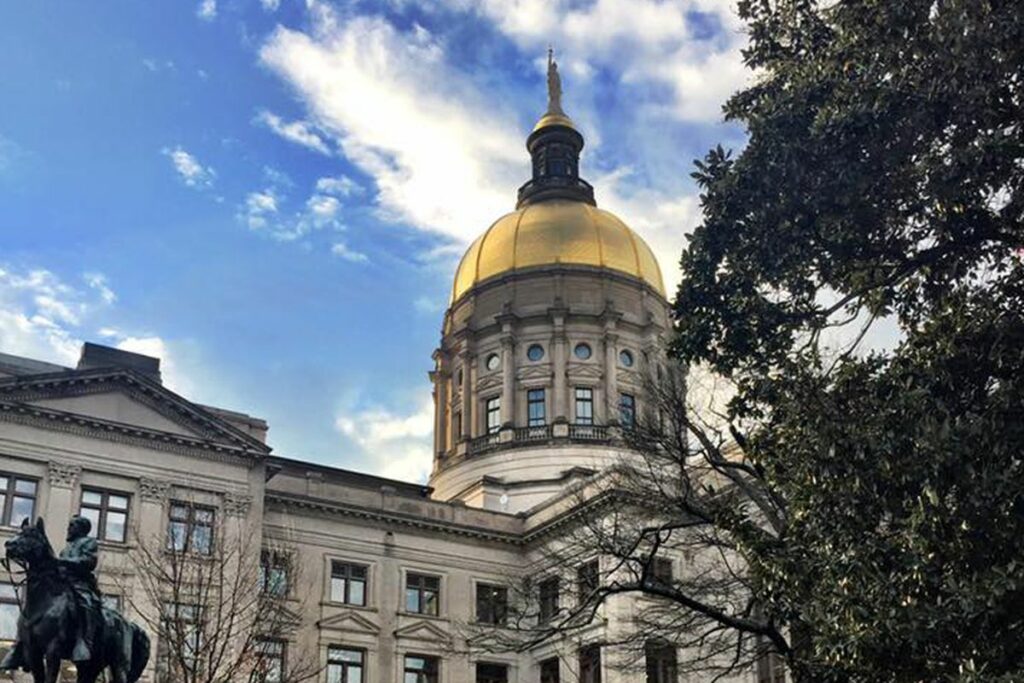 ATLANTA – Georgia citizens want new congressional and legislative district maps that are fair, transparent and drawn without regard to politics.
One after another, they said so during the first four of 11 public hearings the General Assembly is holding across the state this summer to tee up the once-a-decade process of adjusting district lines to reflect shifts in population during the previous 10 years.
"It isn't about being Republican or Democrat but seeking to do what is best for the citizens who call our state home," Rebecca Yardley of Cleveland, Ga., Republican chairman in Georgia's 9th Congressional District, told members of the state House and Senate committees in charge of redistricting June 29 during a hearing in Cumming.
But if history is any indication, the legislature's Republican majority will design maps aimed at maintaining their control of the General Assembly and regaining one or two congressional seats lost to the Democrats in 2018 and last year.
The Democrats drew politically motivated maps when they controlled the legislature, including a 2001 map that created multi-member state House districts in an ultimately ill-fated effort to stem Republican momentum that culminated in the GOP winning a majority in both legislative chambers in 2004.
Republicans returned the favor in the 2011 redistricting, although they held big enough majorities in the General Assembly that they didn't have to resort to such strategies as multi-member districts.
"The majority party invariably comes up with maps to try to maintain its majority status for the next decade," said Charles Bullock, a political science professor at the University of Georgia who has written extensively about redistricting. "The minority party are largely observers in this process."
Two wrinkles promise to make redistricting different this year. First, the coronavirus pandemic has slowed the decennial U.S. Census, which churns out the data upon which redistricting is based.
With the data not expected until the end of September, the General Assembly won't be able to convene a special session to approve new maps until October or November. Redistricting special sessions are usually held in the late summer.
"There will be a mad dash to get the districts drawn before we go back in January [for the 2022 session]," said state Sen. Elena Parent, D-Atlanta.
This also will be the first redistricting carried out since the mid-1960s without the protection of a key section of the 1965 federal Voting Rights Act. In 2013, the U.S. Supreme Court ruled that states with a history of racial discrimination, including Georgia, no longer have to "preclear" their congressional and legislative district maps with the Justice Department.
Without the right to demand preclearance of maps, voting rights advocates who believe one or more of the new maps discriminate against minority voters will be left with the sole option of a court challenge.
"We still have the Voting Rights Act, legal protections that assure people of color have an opportunity to elect representatives of their choice," said Karuna Ramachandran, director of statewide partnerships for the Norcross-based nonprofit Asian Americans Advancing Justice.
Many states in recent years have decided to take politics out of the redistricting process by having an independent commission handle the task.
"We need to have an independent commission do this process," said the Rev. James Woodall, state president of the Georgia NAACP. "Time and time again, we see this process taken into the hands of partisan elected officials."
In 14 states, commissions have primary responsibility for drawing the maps, according to the National Conference of State Legislatures. Commissions in six states act only in an advisory capacity, and five states have commissions that serve only as backups if their legislature can't agree on a plan.
Iowa is unique in that it has its legislative staff members draw the maps under a legal requirement that they not give any consideration to incumbent protection or other political concerns.
Bullock said he doesn't foresee any movement in Georgia toward the independent commission route. For one thing, many states that have adopted independent commissions only did so when their citizens mounted a ballot initiative, an option not available in Georgia, he said.
"Legislators like to be allowed to draw their districts," he said. "With an independent commission, they're giving up something."
Bullock said when it comes to drawing new legislative district lines, Georgia Republicans' main goals will be protecting their incumbents and keeping their majorities in the state House and Senate. However, those goals could come into conflict with each other, he said.
"The risk is if the majority party draws a number of districts in which its majority is narrow," he said. "That might work in 2022 or 2024, but with a wave election or demographic shift, they could lose a number of districts.
"If they decide, 'We can defend a smaller number of districts for 10 years,' they might concede some districts."
As for the congressional map, Democratic U.S. Reps. Lucy McBath of Roswell and Carolyn Bourdeaux of Suwanee will have the biggest targets on their back. McBath won the 6th Congressional District seat in 2018, and Bourdeaux captured the 7th District seat last November.
Both districts in Atlanta's northern suburbs historically were Republican strongholds, but the Democrats have benefited from demographic changes that have significantly swelled their minority populations.
Winning both seats would get the GOP back to a 10-4 dominance of Georgia's congressional delegation.
But Bullock said recapturing both districts might be a risky undertaking because Republican mapmakers would have to spread out the region's GOP voters. He suggested GOP lawmakers might be better off going after just one of those seats by packing Republican loyalists in the targeted district.
"The less aggressive approach would be to concede one of those districts to the Democrats," he said.
While weighing the various political ramifications of the maps they're drawing, Republicans can't lose sight of some basic legal requirements and best practices of redistricting. Districts must be as close to equal in population as possible, although legislative maps can vary up to 5%.
Also, the legislature is supposed to try to keep together "communities of interest" and respect municipal boundaries.
That's what was uppermost in mind for many of the speakers at the initial round of public hearings.
"I understand that Georgia is growing and we are becoming more diverse," Camille Brown, a member of the Cherokee County Republican Party's executive committee, said at the Cumming hearing. "But your goal should be to keep communities together."