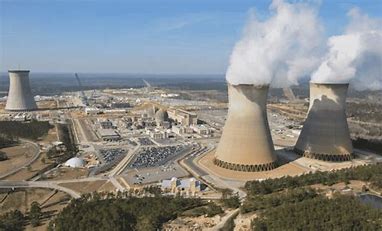 ATLANTA – Georgia Power's nuclear expansion at Plant Vogtle is being delayed again due to "productivity challenges" and additional time needing for testing and quality assurance, the Atlanta-based utility announced Thursday.
Under the new schedule, the first of two new nuclear reactors being built at the plant south of August isn't expected to go into service until the second quarter of next year. The second reactor won't be ready until the first quarter of 2023. That amounts to a three- to four-month delay for each reactor.
The total capital cost of the project also is going up by $460 million, Georgia Power announced.
"Georgia Power is focused on safety and quality as we complete this project," said Chris Womack, chairman, president and CEO of Georgia Power. "[The Vogtle nuclear expansion] remains a critical investment for the state to provide low-cost, reliable and emissions-free electricity for the state of Georgia for 60 to 80 years.
"This is too important to our customers, our state and our nation for us not to get it right, and we will."
The first of the two new reactors at Plant Vogtle originally was to be completed in 2016, with the second reactor to go into service one year later. But the project has encountered a number of delays, due in part to the bankruptcy of Westinghouse Electric, the original prime contractor.
The cost of the project has nearly doubled from the original estimate of $14 billion approved by the Georgia Public Service Commission (PSC) a dozen years ago to about $26 billion.
Georgia Power is partnering with three other utilities on the project. The company's share of the total capital cost is now an estimated $9.2 billion.
However, Georgia Power has not sought approval of any capital costs above the $7.3 billion share previously approved by the PSC. There also are special protections in place for customers during construction, including a reduction in Georgia Power's return on investment for the project.
"We knew building the first new nuclear units in the U.S. in more than 30 years would be challenging," Womack said. "The project has endured extraordinary circumstances during construction, including the pandemic."
There was one bit of positive news for the project on Thursday. Georgia Power announced hot functional testing of the first of the two new reactors has been completed, meaning the unit is 99% complete.
During hot functional testing, plant systems achieved normal operating pressure and temperature, without nuclear fuel, to verify the successful operation of reactor components and systems together.
The total project, included the second reactor, is now 93% complete, Georgia Power announced.
The project's opponents have long argued Georgia Power could have avoided the uncertainties of the nuclear expansion by putting more investment into renewable energy sources.
But utility officials continue to maintain the Vogtle expansion is the most cost-effective and reliable long-term deal both for Georgia Power's shareholders and its customers.