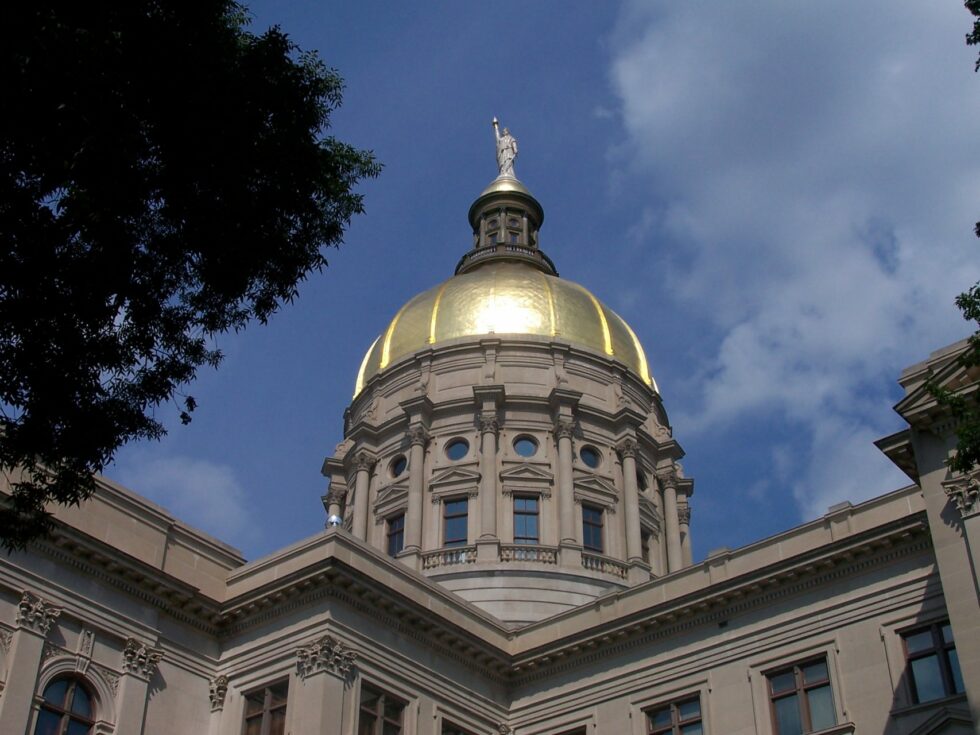 The speedy passage and signing of controversial Republican-brought legislation overhauling Georgia mail-in and early voting has drawn a federal lawsuit and the arrest of a Democratic state lawmaker.
The sweeping 98-page bill hashed out by top Republicans in the General Assembly cleared both chambers Thursday afternoon and quickly gained Gov. Brian Kemp's signature in an early-evening ceremony held behind closed doors at the state Capitol.
That decision led to the arrest of Rep. Park Cannon, D-Atlanta, by Capitol police officers for knocking on the door to Kemp's office, an episode that was caught on video and widely circulated on social media. She faces felony charges on charges of disrupting legislative proceedings and violence toward police.
Park's arrest, which prompted swift condemnation from Democratic leaders and supporters, came as opponents of the omnibus bill readied a lawsuit aimed at blocking the election changes on grounds they would violate federal voting-rights law and the U.S. Constitution.
The lawsuit, filed by several Democrat-aligned voting groups including the New Georgia Project and Black Voters Matter Fund, echoes criticism from opponents who have argued the bill's passage would result in curbing election turnout in Black and low-income communities.
"Collectively, these challenged provisions not only impose severe and unconstitutional restrictions on the voting rights of all Georgians, but they also disparately impact Black voters and effectively deny them an equal opportunity to participate in the electoral process and elect candidates of their choice," the lawsuit claims.
Among dozens of changes, the bill requires stricter voter ID rules for mail-in ballots, bans people from handing out food and drink to voters waiting in line outside polling places and halts absentee ballot applications from being accepted within 11 days of an election.
It also allows state officials to take over county election boards for poor performance, which Democratic leaders and voting-rights advocates argue could give Republicans a back-door way to influence local election operations in many counties.
Additionally, the bill requires local election officials to hold two Saturdays of early voting and give counties the option to hold poll hours on two Sundays, marking expanded hours that Republican leaders say will give Georgians more access to the polls.
Republican state leaders have dismissed accusations the bill, sponsored by Sen. Max Burns, R-Sylvania, would reduce voter access or benefit their party's ticket in Georgia. They have insisted the election changes aim to shore up voter confidence after the 2020 elections spurred unfounded fraud claims.
Kemp, who signed the bill about an hour after its final General Assembly passage, batted back at Democrats' attempts to cast the bill as a form of voter suppression akin to discriminatory tactics of the Jim Crow era.
"Contrary to the hyper-partisan rhetoric … the facts are this new law will expand voting access in the Peach State," Kemp said in a video speech shortly after signing the bill.
"Georgians will no doubt soon be overwhelmed with fancy TV ads, mailers and radio spots attacking this common-sense election reform measure. … The truth is ensuring the integrity of the ballot box is not partisan [but] it's about protecting the very foundation of who we are as Georgians and Americans."
The governor's speech was interrupted briefly by the arrest of Park, a Black lawmaker who drew comparisons to civil rights movement heroes the late Congressman John Lewis and Martin Luther King Jr. as officers forced her out of the Capitol and booked her into the Fulton County Jail. She was released hours later.
Many observers and critics including highlighted the irony of a Black lawmaker being arrested over a bill that has been slammed as an echo of old segregationist laws and practices in the state.
"While Kemp signed the most restrictive voter suppression bill seen since Jim Crow, authorities outside unjustly arrested a Black legislator and charged her with two felonies," the Democratic Party of Georgia said on Twitter. "This is the civil-rights fight of our generation."
Meanwhile, Republican officials in Georgia and outside the state mustered to defend the election bill against the lawsuit filed in the Atlanta-based U.S. District Court for the Northern District of Georgia.
Ronna McDaniel, chairwoman of the Republican National Committee, slammed Democrats' "false narrative" on the election bill and said her organization "look[s] forward to defending this law in court."
"Democrats can lie and spin about the bill all they want, but the real question should be: 'Why are Democrats so terrified of a transparent and secure election process?' " McDaniel said in a statement.