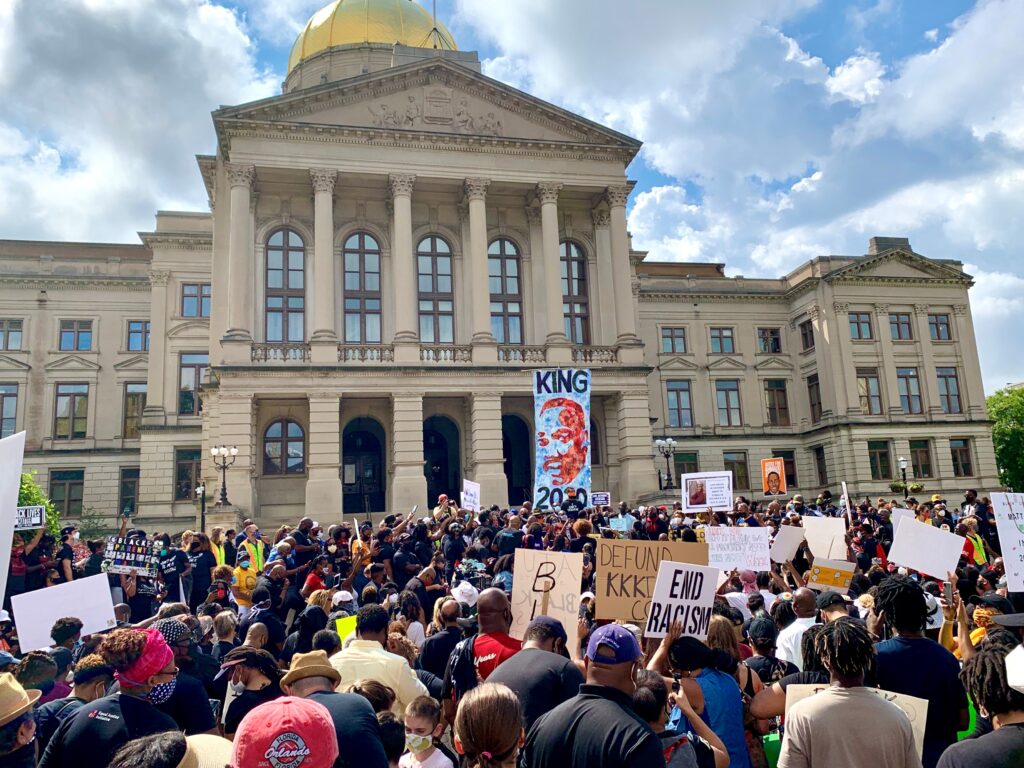 Georgia lawmakers reconvened Monday for the last lap of the 2020 legislative session as protesters marched by the thousands to the state Capitol in Atlanta to condemn police brutality and racial injustice.
The march, organized by the Georgia NAACP, started from the Richard B. Russell Federal Building and proceeded the half-mile to the Capitol, where protesters greeted mask-wearing state lawmakers who took their seats in the Georgia House and Senate chambers amid new distancing requirements prompted by the coronavirus pandemic.
At the protest march, several speakers called on lawmakers to pass a package of criminal justice reform bills that include repealing the state's citizen's arrest and stand-your-ground laws, as well as creating "anti-choke hold" rules, a ban on no-knock search warrants and new oversight for district attorneys.
"If they don't pass these bills, then we're going to fill up the jails," said James Woodall, president of the Georgia NAACP. "Because we're going to shut it down."
The 12-bill package, unveiled last week by members of the Georgia House Democratic Caucus, also includes a hate-crimes measure aimed at adding extra penalties for persons convicted of crimes committed based on a victim's gender, race or other identifier. The measure, House Bill 426, has languished in the Senate for more than a year after the House passed it in March 2019.
House Speaker David Ralston noted that 465-day lag since his House colleagues passed the hate-crimes bill and called on the Senate to act on it in the days remaining in this year's session.
"If we leave here without passing a hate-crimes bill, it will be a stain on this state that we can never wash out," said Ralston, R-Blue Ridge.
Senators seemed supportive Monday of taking up the speaker's challenge. Several senators kicked off the restarted session by urging swift passage of the hate-crimes measure.
While Lt. Gov. Geoff Duncan – who presides over the Senate – has argued the bill might benefit from more tweaking, others said too much tinkering could doom its chances in the race to wrap up the session amid ongoing concerns over coronavirus.
"Members of this Senate, it is time to act," said Senate Minority Leader Steve Henson, D-Stone Mountain. "There is no excuse why we are not moving with all due haste as we see protesters on the street in front of us."
Sen. Lester Jackson, D-Savannah, pointed out Georgia is one of only five states that does not have a hate-crimes law on the books. He also noted the measure now awaiting a vote in the Senate was brought by a Republican lawmaker, Rep. Chuck Efstration, R-Dacula, and has gained more Republican support than have past efforts to pass hate-crimes legislation.
"It's not just a black issue, it's not just a Democratic issue," Jackson said. "It is a people's issue. It is a Georgia issue …. It's just the right thing to do."
Several Republicans agreed Monday that hate-crimes legislation should be passed in the coming days. Sen. P.K. Martin IV, R-Lawrenceville, praised the actions of protesters in his backyard of Gwinnett County and said lawmakers should make use of the current session to "take substantive steps to eliminate racism in our culture."
"We should collectively stand up against racism," Martin said. "We should pass meaningful hate-crimes legislation this session."
Others threaded the needle more between passing the hate-crimes bill and showing support for law enforcement officials in Georgia. Sen. Randy Robertson, a retired major with the Muscogee County Sheriff's Department, said police officers face dangerous work environments and should not be universally condemned for the actions of a few.
"The men and women of law enforcement, they do not hate," said Robertson, R-Cataula. "Those who do, don't make it."
Others, including Sen. Jeff Mullis, dismissed recent calls from protesters to defund local police departments, saying people from other states should visit Georgia since business restrictions have been relaxed amid coronavirus and "because we respect the order of law."
"So come on out there, in America, bring your business to Georgia if they're going to un-fund your police department," said Mullis, R-Chickamauga. "We're not gonna do that here."
While Ralston strongly endorsed the hate-crimes bill, he said other portions of the Democrats' package of criminal-justice reforms – including doing away with the citizen's arrest law – will have to await a "broader conversation" he pledged to undertake after the legislative session.
The march outside the Capitol came days after Rayshard Brooks was shot dead by an Atlanta police officer during an altercation at a Wendy's restaurant south of downtown Atlanta. It also comes amid nationwide protests after the death of George Floyd late last month in Minneapolis, and following arrests last month in the fatal shooting of Ahmaud Arbery, a black man who was gunned down by a white man near Brunswick.
During Monday's demonstration, Lloyd Pierce, head coach of the NBA's Atlanta Hawks, pressed for ending Georgia's stand-your-ground law amid concerns over conflicts of interest involving Coastal Georgia investigators in the Arbery case.
"Our law enforcement can't hold themselves accountable," Pierce said. "So we need to repeal the stand your ground."
Protesters also slammed state election officials and lawmakers for issues seen during last week's primary election, when social distancing measures and inadequate training of poll workers on how to operate new voting machines led to long lines at polling places and mistrust in the voting process.
In the wake of the primary, Ralston has instructed the House Governmental Affairs Committee to conduct an independent investigation of the problems that occurred with last week's voting.
"I'm not interested in finger-pointing," the speaker said, referring to the back-and-forth laying of blame Democrats and Republican Secretary of State Brad Raffensperger engaged in after the primary. "I'm interested in facts."
Dave Williams contributed to this story.