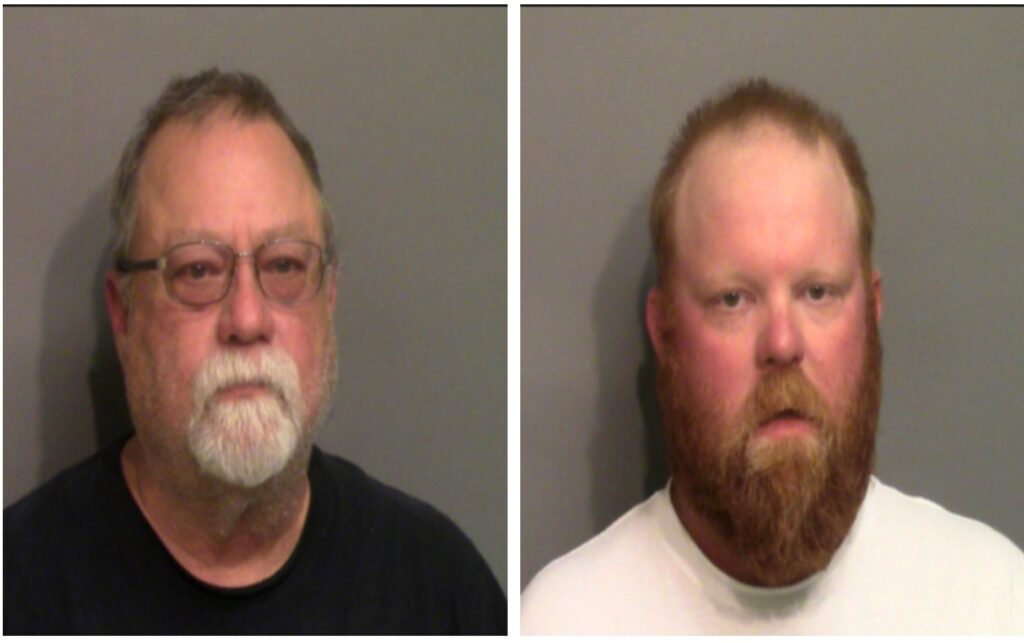 The white gunman who shot dead Ahmaud Arbery near Brunswick in February called the 25-year-old black man a racial slur as he lay dying on the street, according to court testimony Thursday from the Georgia Bureau of Investigation's lead investigator in the case.
Travis McMichael, a 34-year-old white man, allegedly called Arbery a "(expletive) N-word" shortly after shooting him three times with a 12-gauge Remington shotgun during a pursuit on Feb. 23, according to GBI Special Agent Richard Dial.
Dial, whose testimony Thursday opened probable-cause court proceedings in the case, said the slur from McMichael was heard by one of three defendants who have been charged, William "Roddie" Bryan Jr.
Bryan, who did not testify directly Thursday, told a GBI investigator that he heard McMichael make the remark shortly after shooting Arbery, according to Dial. Dial said Bryan made the claim in a mid-May interview.
Bryan, who recorded cell-phone video footage of the fatal encounter, also allegedly hit Arbery with his truck during a pursuit after Arbery was seen entering a construction site in the neighborhood, Dial said.
The courtroom revelations from Dial are sure to inflame public passions over the death of Arbery, whose killing was caught on cell-phone video footage taken by Bryan and circulated widely on social media last month.
Travis McMichael and his father, Gregory McMichael, have been charged with murder and aggravated assault in the killing. Bryan is also facing a murder charge as well as a charge of attempted false imprisonment.
Dial's testimony came in a preliminary hearing held in Glynn County Magistrate Court Thursday. Aside from noting Bryan's description of the racial slur, Dial also laid out the timeline events that led to Arbery's death.
Dial, who led the investigation once the GBI took over last month, said the two McMichael men were alerted to Arbery's presence at a nearby house under construction.
Gregory McMichael, 64, told police he had a "gut feeling" that Arbery was responsible for previous burglaries in the neighborhood, and decided to give chase, Dial said. However, Dial noted there is no evidence Arbery took anything from the construction site on the day he was shot.
Dial then described a series of events in which the two McMichael men in one truck and Bryan in another pursued Arbery in the neighborhood to stop and question him. Several people including members of Arbery's family told police that Arbery is an avid runner and was jogging that day, Dial said.
After blocking Arbery's path, Travis McMichael exited the truck and ordered him to halt while taking aim with his shotgun. Arbery resisted, tussling with Travis McMichael briefly before he was shot three times, including once to the center of his chest.
The two McMichael men were arrested about 36 hours after GBI agents formally launched an investigation into the shooting on May 6. Bryan, 50, was arrested about two weeks later.
Beyond the criminal case, federal investigators are probing how coastal Georgia officials handled the case, given several conflicting interests between persons involved in the shooting and two district attorneys who oversaw the case prior to the GBI's involvement.
In particular, federal authorities are expected to examine the impact of Gregory McMichael's past employment in Brunswick Judicial Circuit Attorney General Jackie Johnson's office and as a Glynn County police officer.
On Thursday, Dial testified that Gregory McMichael was armed with the same Smith and Wesson revolver that he carried as a police officer when he and his son pursued Arbery.