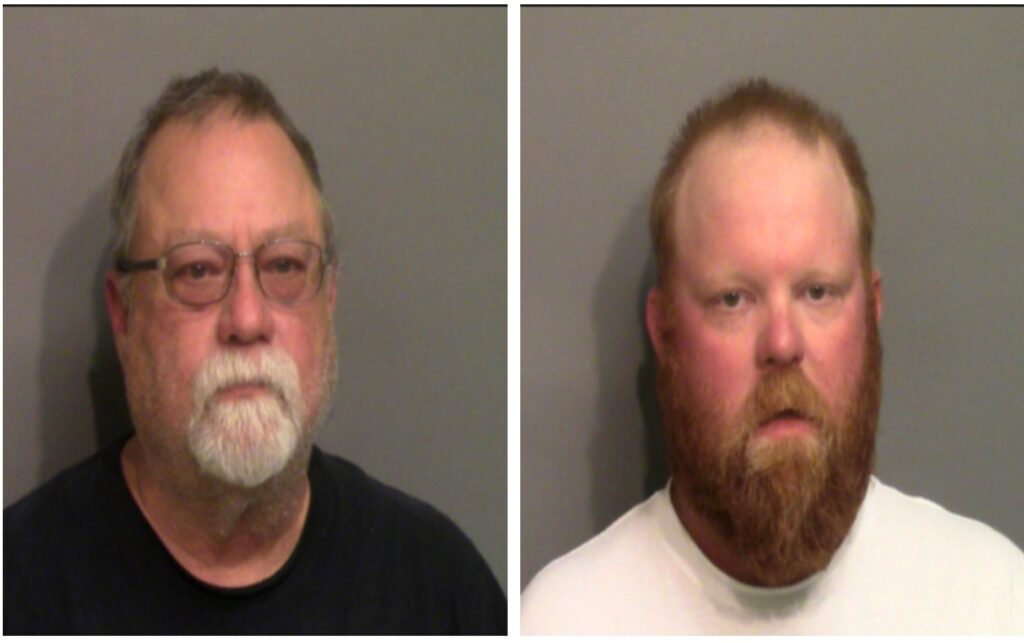 Two men were arrested late Thursday by state investigators in connection with the fatal shooting of Ahmaud Arbery, the coastal Georgia resident whose death has sparked widespread outrage.
Gregory McMichael, 64, and his son, Travis McMichael, 34, were booked into the Glynn County jail on charges of murder and aggravated assault in the fatal shooting of 25-year-old Arbery, according to the Georgia Bureau of Investigation.
A Glynn County grand jury is expected to weigh charges after court restrictions related to coronavirus are relaxed potentially next month.
The arrests came about 36 hours after GBI agents formally launched an investigation into the fatal shooting, which happened on Feb. 23 and was passed between several local investigating agencies before reaching state authorities.
At a news conference Friday morning, GBI Director Vic Reynolds said it quickly became clear that evidence already gathered by other investigators involved in the case was enough to warrant probable cause for murder.
"If we believe it, then we're going to put the braces on," Reynolds said Friday. "And that's exactly what we did yesterday."
The arrests also come amid a firestorm of criticism over the handling of the shooting investigation by Glynn County authorities, which intensified this week following the release of video that shows the fatal encounter between Arbery and the two McMichael men in a neighborhood near Brunswick.
The video quickly drew comparisons to other high-profile killings of unarmed black men in recent years and prompted accusations of police corruption, given that Gregory McMichael formerly worked as a Glynn County police officer and as an investigator with the Brunswick District Attorney's Office before retiring last May.
Captured in the video are the final moments in which the McMichael men, who are both white, armed themselves and used a truck to follow Arbery while he was jogging in the Satilla Shores neighborhood. Arbery is seen grappling with Travis McMichael shortly before three shots are fired, then stumbles to the pavement.
At Friday's news conference, Reynolds acknowledged the video played a major role in hastening charges against the McMichael men after more than two months of investigations by local authorities, but that there was other critical evidence in the case as well. He declined to elaborate.
However, Reynolds did indicate that additional charges could be brought against other persons related to the case. He did not acknowledge whether investigators were probing the actions of any officials involved in the case from either the Glynn County Police Department, the Brunswick Judicial Circuit District Attorney's office or the Waycross Judicial Circuit District Attorney's office.
"[GBI's investigation] will only expand to what's relevant to this murder investigation," Reynolds said. "We've been asked to conduct a murder investigation [and] that's what we're conducting."
Tom Durden, the Atlantic Judicial Circuit district attorney who agreed to take over the case in mid-April, said public pressure following the video's release did not influence any decision to bring charges.
"We don't let that influence the decision," Durden said Friday. "We can't just make a snap decision."
Hate-crimes charges cannot currently be brought in the shooting since Georgia does not have a law on the books regarding hate crimes, Reynolds said Friday. Citing the Arbery shooting, many state lawmakers renewed calls this week to pass a hate-crimes bill sponsored by state Rep. Chuck Efstration, R-Dacula, that cleared the Georgia House last year but has stalled in the Senate.
Legislation also stalled earlier this year in the General Assembly that would put to Georgia voters whether to abolish county police departments such as the one in Glynn County. That bill, sponsored by Sen. William Ligon, R-Brunswick, stemmed from a grand jury report last November condemning the Glynn County Police Department over alleged officer misconduct and poor coordination with the local sheriff's office.