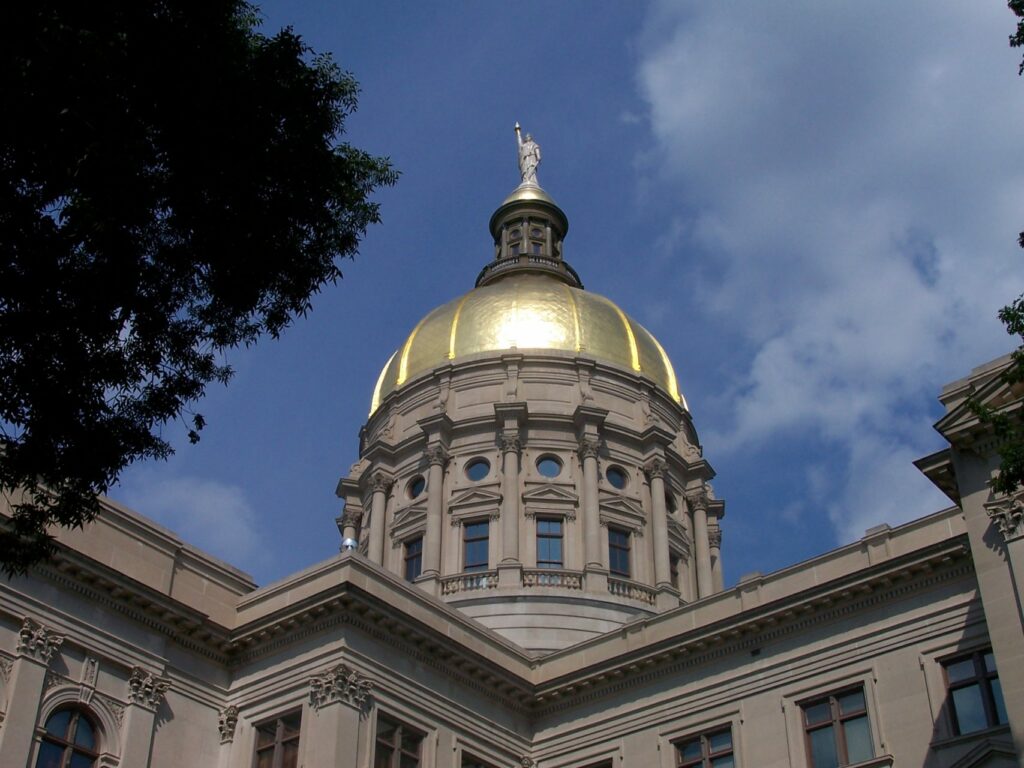 Tax collections on sales by third-party online sellers in Georgia like Google and Amazon take effect Wednesday, including for ride-hailing companies that were due for an exemption before coronavirus shuttered the General Assembly.
Collecting sales taxes on big online retailers could reel in around $100 million annually for the state plus tens of millions of dollars more for local governments, according to a fiscal analysis. The extra revenues were billed as a needed boost for the state amid sluggish tax collections and agency budget cuts.
Lawmakers pushed through a measure in January to start collecting online sales taxes. Part of the deal involved passing a separate arrangement for ride-hailing companies like Uber and Lyft, which favor paying a flat fee of 50 cents per ride instead of the sales tax.
Uber representatives said paying sales taxes would increase costs for customers and reduce earnings for drivers. The 50-cent fee structure they want was tacked onto a bill to ease income-tax requirements for Georgia farmers hit hard by Hurricane Michael in 2018. It cleared the Georgia House March 12 and appeared set for quick passage in the state Senate.
Then, coronavirus swept across Georgia, forcing the General Assembly to suspend the legislative session indefinitely. Hundreds of bills, including the 50-cent fee measure, wait in limbo until the legislature reconvenes.
"There's probably 30 or 40 bills that we really need to pass," said Senate Majority Whip Steve Gooch, R-Dahlonega. "And the rest of them we may have to wait until next year."
The fee measure for ride-share companies is one of the bills lawmakers aim to pass when they return to wrap up the session, said Gooch, who has led the push to pass the fee.
Gooch said he plans to ask Gov. Brian Kemp to issue an executive order giving ride-share companies an exemption from the online sales tax, which takes effect April 1. But he did not know what Kemp's appetite for that might be.
The complication arose when the House added a last-minute amendment to the fee measure, House Bill 105, that sought to make it clear that revenues from the fee would be earmarked for public transit. Without that amendment, the bill would have gone straight to the governor when it passed out of the House.
Gooch said lawmakers have no idea when they will resume this year's session. That decision is up to Lt. Gov. Geoff Duncan in the Senate and Speaker David Ralston in the House.
"It's unfortunate," Gooch said. "But it's just one of those unusual circumstances you can't do much about until you get back to Atlanta."
Meanwhile, the state Department of Revenue is poised to start collecting the online sales taxes, regardless of any intent lawmakers have for exempting ride-share companies from the tax and charging them a fee instead.
"Since legislation that would modify the tax rate for ride-share companies has not finalized its way through the legislative process, the provisions of [the collections bill] will apply," said Jessica Simmons, deputy commissioner for the revenue department.
Uber may end up offering a refund for riders charged more per trip with the sales tax until the 50-cent fee is passed, but for now the focus is on responding to the COVID-19 pandemic.
"While sales tax will begin applying to rides on April 1, we are advocating for a resolution when the legislature returns with the passage and signing of [fee measure]," said Evangeline George, a spokeswoman for the San Francisco-based company. "The safety and well-being of Georgians is rightfully the top priority for the state right now."