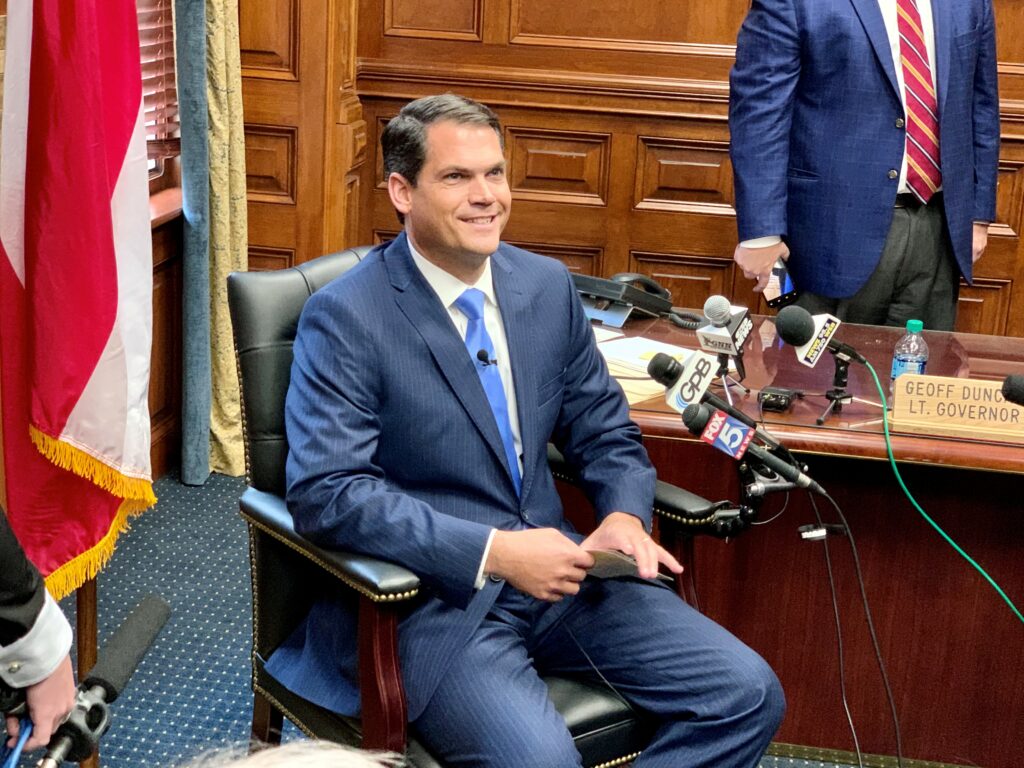 ATLANTA – Georgia Senate leaders cast the prospects for new legalized gambling in doubt Monday on the first day of the 2020 legislative session.
Lt. Gov. Geoff Duncan, plus members of the influential Senate Majority Caucus, all said passing gambling legislation is low on the legislative totem pole this year. Instead, they aim to push through bills to boost revenue collections from online sales, expand rural broadband internet and bolster foster care services.
"I just haven't seen that overwhelming support for gambling here in Georgia," Duncan, the Senate's presiding officer, said at a news conference following the session's first day.
Some state Senate and House lawmakers have called for a constitutional amendment giving voters final say on whether to allow casinos, sports betting and horse racing for the first time in Georgia. Supporters say legalizing those activities would pump more money into education and health-care programs at a critical moment when state revenues are showing signs of strain. The Georgia Lottery has been the state's only legal form of gambling since its creation in 1992.
Along with Duncan, Senate Majority Leader Mike Dugan dismissed gambling Monday as "not one of our priorities," painting a bleak future for a constitutional amendment to gain the required two-thirds approval from both chambers for placement on the statewide ballot.
"We have evaluated it," said Dugan, R-Carrollton. "Honestly, we don't have a consistent evaluation of what that return on income would be."
Sen. Brandon Beach, R-Alpharetta, who led a Senate study committee on gambling last year and backs a constitutional amendment, did not immediately respond to requests for comment Monday.
While Senate leaders shirked gambling Monday, they did warm to another way to drum up revenues: taxing online purchases. Senate Finance Committee Chairman Chuck Hufstetler, R-Rome, revived a bill that would collect revenues from third-party retail sales channeled through companies like Amazon, Walmart or Airbnb. The measure, he said, could raise hundreds of millions of dollars for the state and help supplement revenue collections that have slowed since summer.
Online sales-tax legislation sponsored by House Ways and Means Committee Chairman Brett Harrell, R-Snellville, passed out of the House last year but stalled in the Senate. Lawmakers disagreed on whether to include an exemption for ride-share companies like Uber and Lyft. The bill now winding through the General Assembly is a "clean bill" without tax exemptions that could take effect as soon as April 1, Hufstetler said.
"Nobody gets a carve-out in this bill," Hufstetler said Monday.
Money bills look to dominate the legislative session amid sluggish tax collections and Gov. Brian Kemp's orders for state government departments to cut their budgets by 4% this year and 6% in fiscal 2021, which begins July 1. Lawmakers have pitched the gambling and online sales-tax measures as ways to avoid the need for even deeper budget cuts.
"The two things I guarantee is we will pass a budget and it will be balanced," Duncan said Monday.
Tax exemptions overall are under the microscope this session. Lawmakers in both chambers are eying ways to close loopholes in the state's generous film tax credit after a scathing audit last week found the program has under-taxed movie companies. A separate state audit said a program doling out tax-deductible donations to struggling rural hospitals falls short of making sure those donations actually make it many hospitals.
"I think there are opportunities to modernize and reform that bill," said Duncan, who co-sponsored legislation in 2017 creating the rural hospital tax-credit program.
Other legislation Senate leaders said they plan to pursue this session includes:
Securing funds to expand broadband internet access for Georgia residents in rural areas.
Beefing up healthcare and mental services for children in the state's foster care system.
Making the details of health-care costs more transparent for patients.
Creating a database that lists all law enforcement officials – including retirees – who could be tapped for disasters or major crowd-control events.