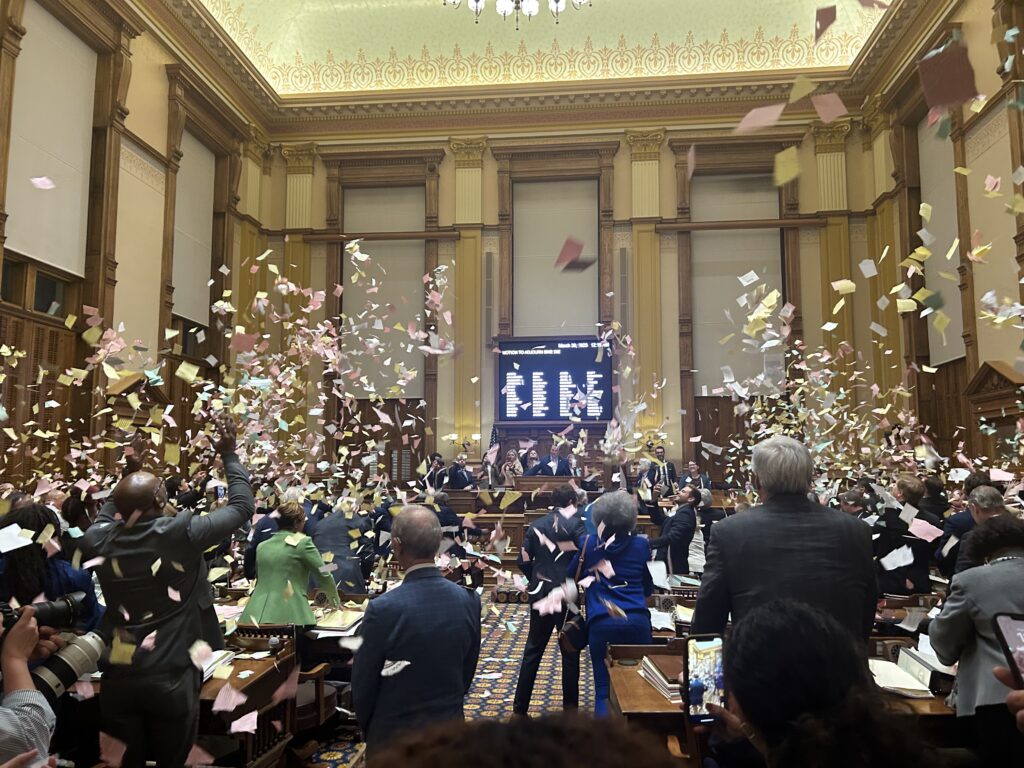 ATLANTA – Despite agreement among lawmakers and advocates that Georgia needs more quality affordable housing, the General Assembly this year took few steps to address the shortfall.
Most of the bills aimed at housing problems failed to pass, foundering on the shoals of inter-chamber disagreements and controversy about the extent to which the state government can limit local housing regulations.
House Bill 514, the "Housing Regulation Transparency Act," sponsored by state Rep. Dale Washburn, R-Macon, would have prohibited local governments from extending moratoriums on building new housing beyond 180 days, with some limited exceptions.
The Senate version of the bill – which passed on the last day of the legislative session – would have prohibited extended local moratoriums on both single- and multi-family housing.
But the House disagreed with the Senate version, pushing the bill to a last-minute conference committee. With just hours left on the legislative clock, there simply wasn't enough time to hammer out the differences.
Washburn said he is optimistic the bill will pass next year, the second year of the current two-year legislative term.
"I'm trying to make it easy to develop and to build housing for Georgians, whether it's multifamily or single family," said Washburn, a veteran real-estate agent.
Local government advocates – mainly represented by the Association County Commissioners of Georgia (ACCG) and the Georgia Municipal Association (GMA) – did not oppose HB 514.
But they balked at another bill Washburn proposed that would have prohibited local governments from regulating a long list of housing design elements, from roof design to building materials to minimum lot sizes.
Washburn said local regulations drive up housing costs that are then passed on to consumers. But House Bill 517 stalled in a House committee.
So, too, did a proposal from Rep. Spencer Frye, D-Athens. His House Bill 490 took aim at large institutional investors who are snapping up single-family homes.
It would have eliminated a tax benefit allowing rental-property owners to reduce their tax liability by about 3.6% of the cost of the rental property annually. The bill never got a committee vote.
One measure aimed at predatory real-estate practices did cross the legislative finish line and is now awaiting Gov. Brian Kemp's signature.
Senate Bill 90 would bar a deceptive real-estate practice pioneered by MV Realty, a Florida company operating in many states.
The company pays homeowners – often seniors on fixed incomes — a small sum of money (usually $500 to $1000) to sign on to a 40-year commitment to use MV Realty if they ever decide to sell their house – or face a stiff financial penalty.
Lawyers for Atlanta Legal Aid have been battling the practice in court, addressing each case individually. The new Georgia law would make the agreements void from the start.
"We're really glad that the legislature decided to address what we see as a really serious problem for our clients," said Dina Franch, a staff attorney with Atlanta Legal Aid.
Another small bright spot is a budget line proposed by Kemp and approved by the legislature that sets aside $35.7 million to create a Rural Workforce Housing Fund within the state Department of Community Affairs. The agency is still hammering out the details of how those funds will be spent, said spokesperson Ryan Evans.
A tenants' rights bill aimed at protections for renters, the "Safe at Home Act" sponsored by Rep. Kasey Carpenter, R-Dalton, failed to get a Senate vote despite unanimous approval in the House.
Under Carpenter's bill, Georgia rental agreements would have to include a provision "that the premises is fit for human habitation," as is already standard in most other states.
It also would have required landlords to ensure air conditioning remains on during eviction proceedings and prohibited landlords from charging more than two months' rent as a security deposit. Finally, the bill would have provided tenants with three days to pay past-due rent or fees before landlords could start eviction proceedings.
"Families are going to have to live in unsafe housing that is not fit for human beings to live in for at least another year," said Elizabeth Appley, an attorney and housing advocate who supported the measure.
A separate set of bills took aim at Georgia's homelessness problem.
House Bill 520 was a follow-up to last year's landmark mental health reform package. One focus was helping so-called "familiar faces" — people who cycle between criminal justice, homeless and behavioral health systems.
The bill would have created a task force dedicated to finding better ways to coordinate services for homeless people facing mental health challenges. It also would have required the Department of Community Affairs to increase supportive housing for the familiar faces population.
Despite passing unanimously on the House floor, the mental-health measure failed to get Senate committee approval.
A bill sponsored by Sen. Carden Summers, R-Cordele, took a more narrow approach to homelessness in Georgia and gained approval from the Republican-controlled House and Senate.
Senate Bill 62 would stop local governments from adopting regulations prohibiting the enforcement of rules against unauthorized public camping and sleeping. It also prohibits hospitals and local governments from dropping off homeless people outside of their jurisdictions and requires the state auditor to conduct an audit of spending on homelessness in Georgia.
Senate Democrats and advocates for local governments opposed the measure.
"[The bill] turns the screws on local governments to try to solve a problem that is so layered multifaceted and complex," said Sen. Josh McLaurin, D-Sandy Springs.
"We would have preferred the state to provide more tools and resources to Georgia cities to help them address the needs of homeless and unsheltered residents in their communities," said Jim Thornton of the GMA.
"Instead, SB 62 provides additional unnecessary restrictions on local governments, but the legislation should not impede the good work that cities across the state are already doing to address homelessness."
This story is available through a news partnership with Capitol Beat News Service, a project of the Georgia Press Educational Foundation.