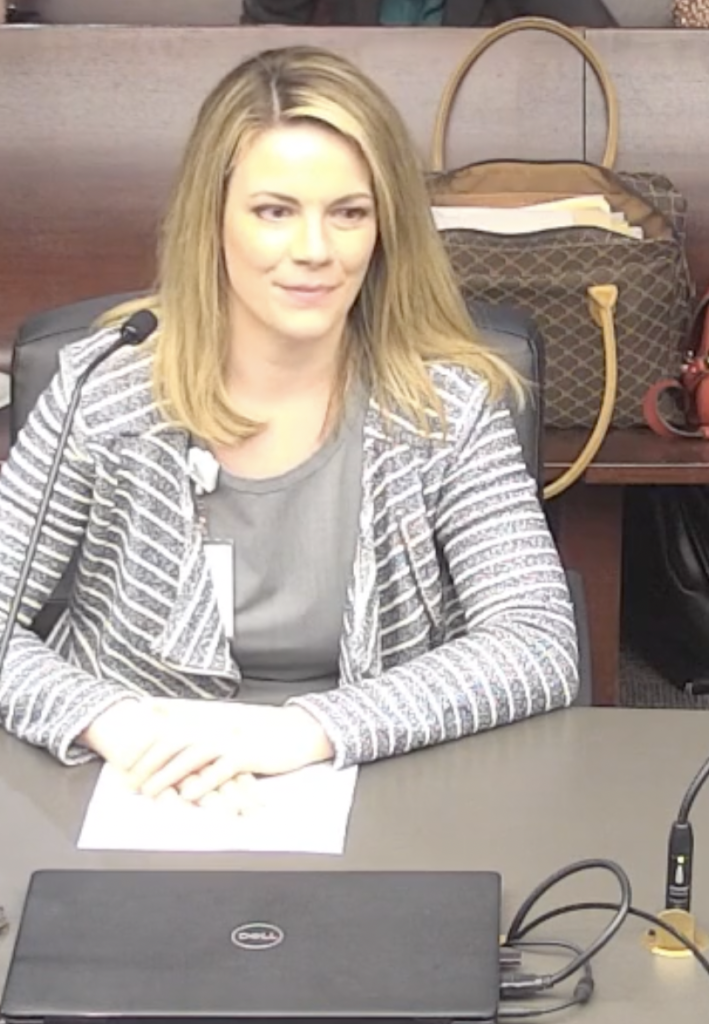 ATLANTA – The state legislature is considering bills to address the problems Georgia's foster care system faces, including the practice of housing children in hotels or state offices when placements cannot be found.
"With the full weight of the governor's and lieutenant governor's leadership behind these efforts, we have a real opportunity to make lasting positive change for Georgia's children," Department of Human Services (DHS) Commissioner Candice Broce told the Senate Committee on Children and Families this week.
A package of four Senate bills would streamline or expedite the process of making legal decisions about the transfer of children to state custody and adoption proceedings.
For example, one bill would allow doctors to testify without being present in person to ensure expert testimony can be provided within the quick timeframe needed for child custody proceedings.
"What we're trying to do here is … get the law in sync with the time pressures that we have in these very important situations," said Sen. Bill Cowsert, R-Athens.
Though the bills would not solve all of the foster-care problems in Georgia, they are aimed at making procedural changes as soon as possible, Ines Owens, policy and communications director for Lt. Gov. Burt Jones, told Capitol Beat this week. It's likely the state will set up a task force or commission to examine the problem in more depth once the legislative session ends.
Georgia's hoteling problem has drawn national attention, with U.S. Sen. Jon Ossoff, D-Ga., announcing Friday that he and Sen. Marsha Blackburn, R-Tenn., are launching a bipartisan inquiry under the auspices of the U.S. Senate's Human Rights Subcommittee, which Ossoff chairs.
Ossoff released a letter he and Blackburn sent to DHS requesting further information about departmental policies, the number of children living in hotels or office buildings, and staff vacancy rates.
While Ossoff's focus is on Georgia, hoteling is a national problem, with many other states also using the practice for foster care children when placements cannot be found.
"We have received the letter, and we look forward to sharing our efforts to protect Georgia's children," said the Division of Family and Children Services (DFCS), the division of DHS that oversees foster care, in a statement issued in response to Ossoff's letter.
Georgia's hoteling problem is complicated by health-care failures and other stresses, experts have testified during legislative hearings this year.
Children who are not receiving adequate behavioral health services are very difficult to find placements for, Dr. Michelle Zeanah, a Statesboro pediatrician, told lawmakers in January.
"Who wants to sign up to take care of a child who fights and spits and hits all day every day?" Zeanah asked lawmakers. "It makes it very hard for the difficult children to be placed and get services."
Such children often fail to get needed behavioral health services because of problems with Georgia's foster-care insurer, Amerigroup, Zeanah and others said.
Georgia pays Amerigroup, which is owned by the large for-profit insurer Elevance (formerly Anthem), a monthly rate for each child insured by the company, whether or not children receive health-care services.
DFCS officials contend that Amerigroup routinely denies needed care for children in foster care. The problem has gotten so bad that DFCS has established its own in-house legal team to address the insurer's denials.
"Every day, my office will review all medical treatment denials, and we will file appeals if we determine that such treatment is medically necessary for the child or the youth," Brian Pettersson, the lawyer who leads the new team, told lawmakers in January.
By the end of last year, the DFCS legal team had filed, and won, 26 appeals against denials of placements for children in state custody in psychiatric residential treatment facilities. An additional 10 such appeals were pending as of December, according to a DFCS memo obtained by Capitol Beat News Service. DFCS plans to expand the program this year, according to the memo.
Other problems facing the agency are a lack of foster-care placements for children who need them and a shortage of caseworkers.
DFCS has an overall turnover rate of 30.3%, according to a fiscal 2022 workforce report published by the state's Department of Administrative Services.
Starting pay for a DFCS caseworker is low, and the job comes with many stresses, from having to work after hours and transport children in personal vehicles to wrangling with the legal and health-care systems.
"This is why our staff quit: We are here to protect children from their caregivers who may be maltreating them," Audrey Brannen, a complex care coordinator at DFCS, told lawmakers at the January hearing. "We cannot do that when so many of our resources, both staff and financial, are trying to plug the holes in our health-care system."
This story is available through a news partnership with Capitol Beat News Service, a project of the Georgia Press Educational Foundation.