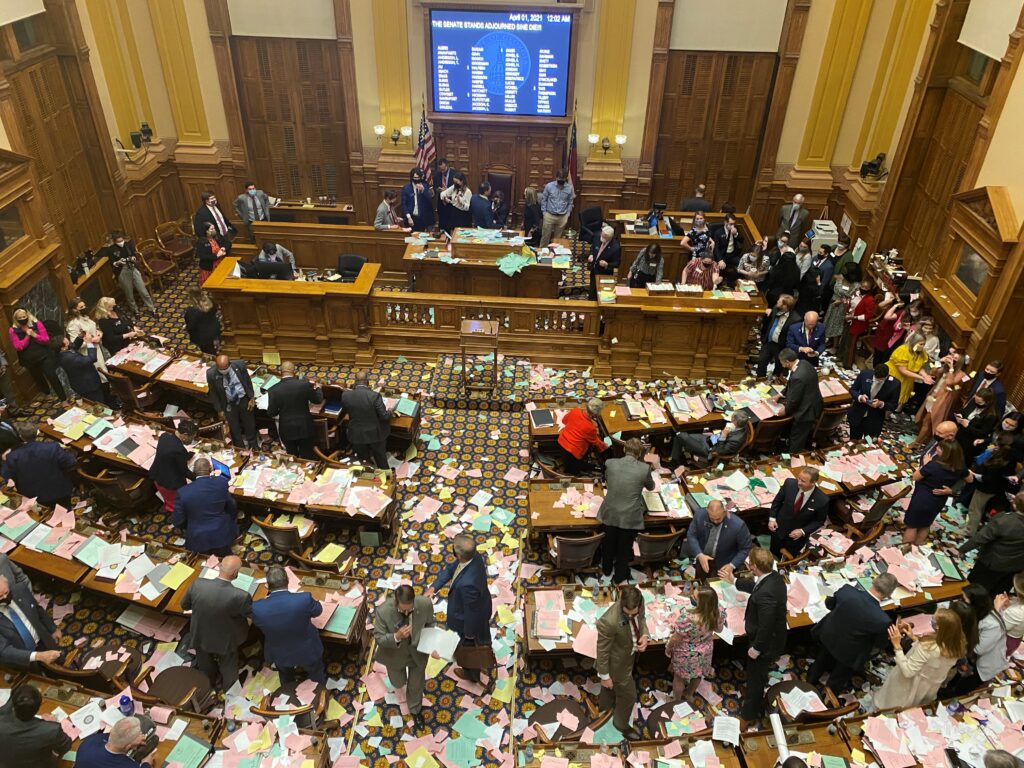 The 2021 legislative session was a mixed bag for police supporters, gun owners and criminal-justice reformers in Georgia who saw several key bills stall as the clock ran out Wednesday night.
Republicans pushed through a controversial proposal to tightly limit budget cuts for local police agencies and scored a bipartisan win by largely repealing Georgia's Civil War-era citizen's arrest law.
But efforts to loosen rules on interstate gun-carry permits, prosecute violent protesters and create a driver education program on how to interact with police during traffic stops all fell short of final passage amid stern opposition from Democratic leaders.
"Really good news but really surprising," said Sen. Jen Jordan, D-Atlanta, about the stalled measure on gun permits. "Just remember it's not over. … This one can get passed in 2022."
The gun measure, sponsored by Rep. Mandi Ballinger, R-Canton, would have allowed anyone licensed to carry weapons in other states to bring their guns legally into Georgia and have their concealed-carry permits recognized.
It came on the heels on two mass shootings earlier this month, including one in which eight people were killed at Atlanta-area massage parlors. The timing prompted Republicans to shelve the bill in the state House of Representatives.
"We're a week out from two mass killings," said Georgia House Speaker David Ralston, R-Blue Ridge. "That heightened my sensitivity to that."
Meanwhile, Ralston and top Republican leaders hailed passage of a bill by Rep. Houston Gaines, R-Athens, that blocks most city and county governments from slashing their police budgets by more than 5% over a 10-year span.
That measure, which is awaiting Gov. Brian Kemp's signature after passing in the state legislature largely along party lines, came after Atlanta and Athens officials nearly shrunk their police budgets last year.
"While cities like Minneapolis, Los Angeles, and Portland might feel comfortable slashing police budgets and compromising public safety, we won't let that happen in Georgia," Gaines said in a statement after the bill passed.
"Instead, we proudly stand with our men and women in blue – and call on every other state legislature to take action and ensure that the radical 'defund the police' movement doesn't endanger more American lives."
Passage of Gaines' bill followed last summer's nationwide protests against police brutality and racial injustice, which sparked calls for redirecting police funds toward other social services as well as moves by conservative leaders to shore up support for law enforcement.
But a pair of proposals favoring police officers that were filed partly in response to those protests failed to gain enough traction Wednesday to clear the General Assembly and reach the governor's desk.
One measure, brought by Sen. Randy Robertson, R-Cataula, would have made it a felony for groups of seven people or more to cause property damage or violence and hold city and county governments liable in civil court for interfering in a police agency's protest enforcement.
Another measure – also by Robertson, a retired Muscogee County police officer – would have required driver-training courses in Georgia to include instruction on how drivers should act when police officers pull them over during traffic stops.
Backers called it a common-sense proposal to improve interactions between police and citizens after years of high-profile deaths involving people being detained that have eroded public trust, such as the killing of George Floyd by a Minneapolis officer last May.
"This just recognizes the fact that we as a community have a responsibility to each other for our mutual safety when it comes to traffic stops and law enforcement interaction," said Rep. Martin Momtahan, R-Dallas, who carried Robertson's bill in the House.
Democrats and criminal-justice advocates argued it would put the burden on drivers to behave in certain ways with police while ignoring scenarios in which officers may abuse their authority during traffic stops.
"This is horribly one-sided, out of touch with reality and incredibly dangerous," said Rep. Kimberly Alexander, D-Hiram. "When civilians do not know their own rights, it is more likely that their rights will be violated."
Beyond all of those bills, the General Assembly also passed out crime and policing measures to toughen punishments for mail and package theft, relax hurdles for low-level offenders to end their probation early and require cash bail for additional crimes including burglary, staling and car break-ins.
Among the failed bills on criminal justice this session was a measure to create an oversight board able to punish and remove bad-actor district attorneys and solicitors general. The proposal hit a wall in the Senate amid criticism it could strip Georgia prosecutors of important tools to pick and choose cases.
Bills that failed this year could catch a second wind in 2022 for the next half of the two-year legislative term.