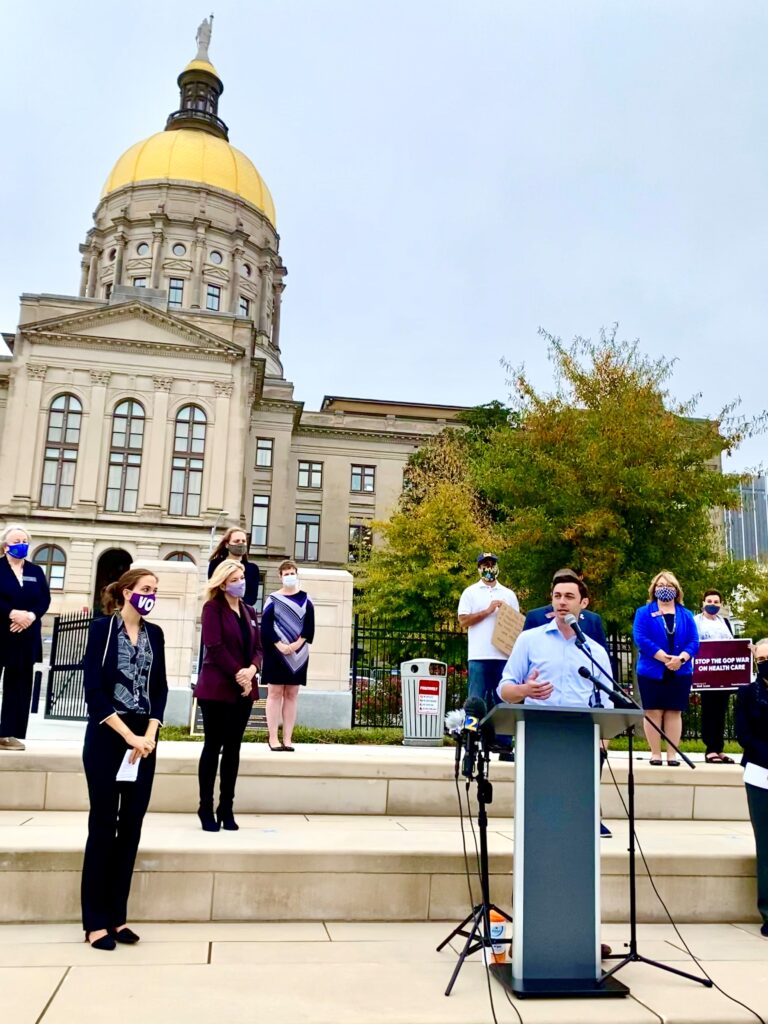 Georgia health-care advocates and Democratic leaders including U.S. Senate nominee Jon Ossoff rallied Tuesday to support the Affordable Care Act as the U.S. Supreme Court took up a Republican-backed lawsuit aimed at striking down the law.
The lawsuit, which Georgia Attorney General Chris Carr has joined as a plaintiff, seeks to have the 2010 health-care law overturned on grounds it can no longer require people to have insurance through the so-called individual mandate, which Congress watered down in 2017 by repealing a tax tied to coverage.
Ossoff, an investigative journalist, has made backing the law and its protections for persons with pre-existing health conditions a central part of his campaign against Republican U.S. Sen. David Perdue, who has several times voted against the law.
Ossoff and Georgia Democrats including Rev. Raphael Warnock, who is competing for the state's other Senate seat against Sen. Kelly Loeffler, have framed Republicans' support for the lawsuit as an attempt to strip health care from millions of Georgians in the middle of a viral pandemic.
At a rally outside the Georgia Capitol building in Atlanta Tuesday, Ossoff called Perdue's stance on the health-care bill "a travesty" and signaled he plans to continue hammering the senator on health-care issues ahead of the closely-watched Jan. 5 runoff.
"This is not a matter of partisan politics," Ossoff said. "This is a matter of the public interest."
Perdue, a former corporate executive seeking a second six-year term in the Senate, has previously dismissed claims he does not support insurance coverage for pre-existing conditions, arguing he has backed legislation to expand those protections. He argues the law drove up health-care costs and limited insurance options.
On Tuesday, Perdue's campaign argued Ossoff favors a "socialized health-care plan" that could increase costs and reduce local hospitals' workforces and facilities.
"Senator Perdue always has and always will support protecting health care for those with pre-existing conditions, period," said the campaign's communication's director, John Burke.
Both Perdue and Loeffler voted against a Democrat-sponsored bill last month that would prohibit the U.S. Department of Justice from arguing against the health-care law in court.
Carr has echoed other Republican attorneys general and officials in calling the health-care law passed during former President Barack Obama's administration an "overt form of federal overreach" that should be scrapped.
The law's supporters argue that while not perfect, it provides essential protections for pre-existing conditions and coverage for services like vaccines that will become crucial in the coming months as COVID-19 vaccines are approved and made widely available.
"Every Georgian, whether they know it or not, benefits from the standards and protections that have been put in place by the Affordable Care Act," said Laura Colbert, executive director of the nonprofit Georgians for a Healthy Future.
A ruling by the high court may not arrive for several months.
Meanwhile, the Perdue-Ossoff and Loeffler-Warnock runoff races have put Georgia in the national political spotlight with control of the U.S. Senate potentially hanging in the balance. Big campaign donations and high-profile backers from both parties are expected to blanket the state before Jan. 5.
Wins for both Ossoff and Warnock in the runoffs would likely tip the Senate in Democrats' favor along with control of the U.S. House and the presidency, clearing the way for President-elect Joe Biden and Democratic lawmakers to enact their priorities with little resistance for at least the next two years.
Ossoff and Warnock, the senior pastor of Atlanta's Ebenezer Baptist Church, have sought to fix health care and insurance coverage as the campaign's top issues, while Perdue and Loeffler have focused on casting their Democratic opponents' priorities and backgrounds as too extreme for Georgia.
Eager to paint their opponents as too cozy with socialism, Perdue has noted a Hong Kong media company's past purchase of one of Ossoff's films and Loeffler on Tuesday highlighted a New York church where Warnock worked as a junior staff member that hosted Cuba's Fidel Castro in 1995.
Perdue and Loeffler stirred controversy this week in pressing for Georgia Secretary of State Brad Raffensperger, a Republican, to resign following the Nov. 3 presidential election as state election officials continue brushing aside unproven claims of ballot fraud made by President Donald Trump.
Early voting for the Senate runoff elections starts Dec. 14. The deadline for Georgia voters to register for the runoff is Dec. 7.