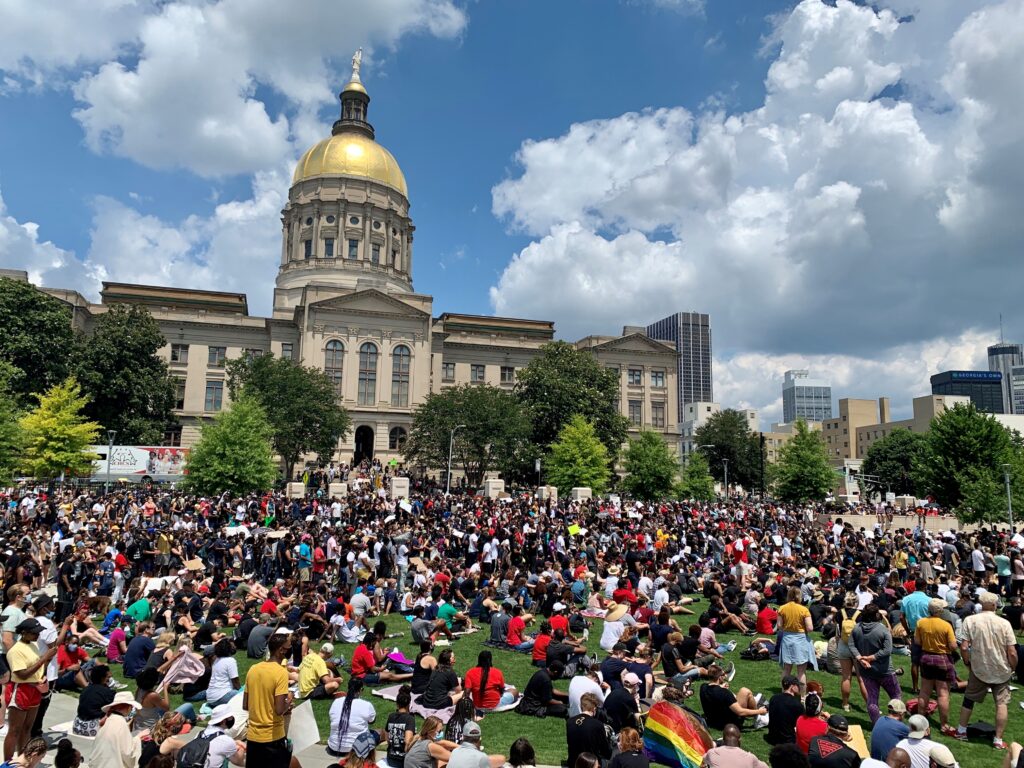 ATLANTA – Georgia Senate lawmakers advanced a bill late Friday that includes police officers and other first responders as protected classes in a contentious hate-crimes bill that has been propelled in recent weeks by a renewed push for police and court reform legislation in Georgia.
The measure, House Bill 426, passed out of the Senate Judiciary Committee Friday night after being stalled there for more than a year, having gained a stamp of approval from the state House of Representatives in March of 2019.
A last-minute change added Friday in the committee saw first responders such as police officers, firefighters and EMS crews included alongside race, gender and religion as categories protected from acts of hate in Georgia.
Proponents of the change called it a needed support of support for police officers, justifying it as a safeguard for law enforcement officers that would balance legislation aimed at protecting many types of people.
"It is imperative that we support our law enforcement personnel that puts their life on the line for us just as we do these other classes, categories, groups of individuals," said Sen. Bill Cowsert, R-Athens, who led the push for the change. "What I'm seeking is to be fair on both sides.
Opponents quickly condemned the move as a slap in the face for Black communities and other groups that have historically faced hateful and discriminatory crimes, including from police officers themselves.
They argued there should be a legal distinction between people who choose an occupation like law enforcement versus those whose inherent qualities like the color of their skin have subjected them to hateful acts.
"I really believed … that we were going to come out with one of the best hate-crimes [bills] in the country," said Sen. Harold Jones II, R-Augusta, who led opposition to the change in committee. "And now, we're not at that at all."
Hate-crimes bill moves forward
Regardless of disagreement, the party-line approval vote by the Senate committee on Friday signaled movement in a bill that has been pushed since last March and which has risen to the top of the agenda for many state lawmakers in what remains of the 2020 legislative session.
The bill, by Rep. Chuck Efstration, R-Dacula, would designate a hate crimes as an enhancement to charges that prosecutors would have the discretion to bring.
It specifies hate crimes as those targeting a victim based on "race, color, religion, national origin, sexual orientation, gender, mental disability or physical disability."
Efstration's measure has drawn support in recent weeks from state lawmakers from both parties, including House Speaker David Ralston, R-Blue Ridge, who urged the Senate to pass a "clean" version of the bill without any changes.
But in recent days, backers of the bill have watched with skepticism at the sudden arrival of a hastily drafted new hate-crimes measure, brought by Lt. Gov. Geoff Duncan.
That measure proposed different protected classes than Efstration's bill – including the addition of people exercising their free-speech rights and the removal of the term "gender" – and would have designated hate-crimes offenses as a standalone charge, not just an enhancement.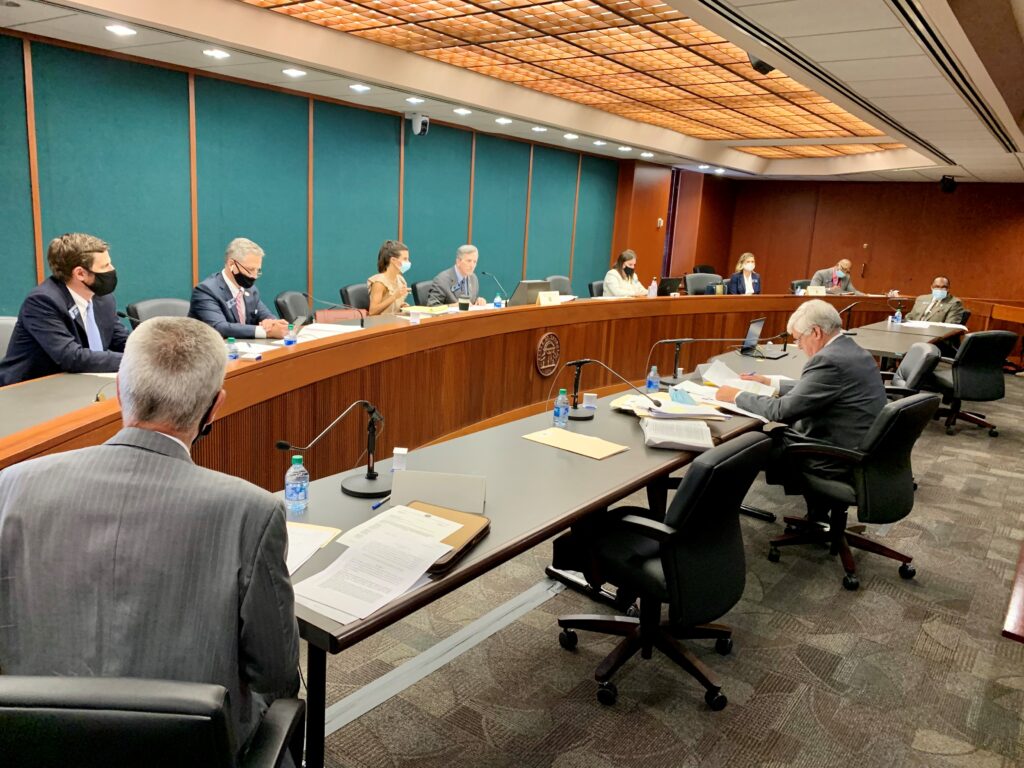 'Poison pill'
While none of Duncan's proposals made it into the version that cleared committee Friday, several Democratic lawmakers decried the addition of protections for police offers as a potential deal-breaker for the bill's final passage.
"That was a poison pill," said Sen. Ed Harbison, D-Columbus, referring to the practice of adding certain language to a bill in order to kill it.
"This is certainly something that we cannot live with and we cannot support," said Rep. Calvin Smyre, D-Columbus, who is the General Assembly's longest serving member.
"That was, in my opinion, a dark cloud over Georgia," he added.
Sen. Nikema Williams, who chairs the Democratic Party of Georgia, said she was "outraged and disgusted" by the addition, labeling it as especially offensive since it came on the Juneteenth holiday (June 19) celebrating the emancipation of slaves in the U.S.
Back the badge
Several Republican lawmakers praised the move Friday, citing examples of participants in recent nationwide protests who had destroyed police vehicles, threatened officers and blocked fire trucks from attending to burning businesses.
"I do know that there's a history of assaults and assassinations on the men and women of law enforcement strictly because of their job," said Sen. Randy Robertson, R-Cataula, who is a retired major with the Muscogee County Sheriff's Department.
"Not because they were investigating a crime," he said, "but because they wear the uniform."
Duncan also heaped praise on the bill, calling it a step forward to passing hate-crimes legislation despite the lack of provisions that his own measure outlined, such as data collections of hate-crime incidents and the ability to bring claims in civil court.
"In recent months, we've seen hate crimes against regular citizens, and we've seen hate crimes committed against first responders," Duncan said after the vote Friday. "Neither are acceptable, and we will not tolerate it in our state."
Protests prompt legislation
Meanwhile, the hearing on Efstration's bill came hours after crowds gathered by the thousands outside the Capitol building and elsewhere in Atlanta to continue weekslong protesting over the deaths of George Floyd, Breonna Taylor, Ahmaud Arbery and Rayshard Brooks.
Their deaths, particularly Arbery's in Georgia, spurred calls for speedy passage of the hate-crimes bill as lawmakers jump-started the 2020 legislative session this week.
The 25-year-old Arbery, who is black, was shot dead in February during a chase by two white men near Brunswick who suspected him of burglarizing a house under construction. Friends and family who knew Arbery say he was out for a jog that day.
His slaying prompted lawmakers to file bills this week to repeal Georgia's citizen's arrest law, which critics have condemned as outdated and liable to shield dangerous vigilante citizens from prosecution.
Beyond that, more than a dozen bills focused on criminal justice reform have been filed in the General Assemble largely by Democratic lawmakers, who have seized on momentum to press for reform policies amid the recent protests.
Their proposals include repealing the state's stand-your-ground law, prohibiting police officers from racial profiling, banning no-knock search warrants and punishing wayward district attorneys.
All eyes on hate-crimes bill
But the hallmark piece of legislation is Efstration's hate-crimes bill, which top lawmakers from both parties want to wrap up before the session ends potentially next week.
They also want to avoid passing a hate-crimes bill this session only to have it tossed out in court for being too broad, as happened in 2004.
That year, the Georgia Supreme Court struck down a law enacted in 2000 after ruling it did not clearly specify what a hate crime is, such as whether it depended on a person's race, gender or other identifiers.
Lately, a host of prominent business leaders and advocacy groups in Georgia have also urged swift passage of the bill with minimal fuss. Too much hand wringing could inspire a swell of protests levelled squarely at lawmakers, warned James Woodall, president of the Georgia NAACP.
"If we have to wait until January [2021] to get legislation that saves people's lives, then so be it," Woodall told lawmakers Thursday. "But I guarantee you, the people of Georgia will stand up. And we will state back the State Capitol."
And while Ralston, the House speaker, has repeatedly called for passing Efstration's bill, he has also thrown water on the chances for any other criminal justice reform measures to make headway this year.
"It's important that we get through this session and do what we have to do," Ralston said. "Then, we'll take a look at all of those ideas."