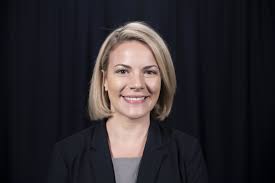 Candice Broce
ATLANTA – The state's foster care system was "hoteling" only seven children as of Tuesday night, the head of the Georgia Department of Human Services (DHS) said Wednesday.
"Our providers stepped up because they want us to get to zero," DHS Commissioner Candice Broce told members of a state Senate study committee looking for ways to improve Georgia's foster care and adoption services. "We couldn't have done this without them."
Housing foster children in state offices or hotels came to the General Assembly's attention during this year's legislative session. The number of children affected has been on a roller coaster, falling to fewer than 20 last summer – a record low at the time – then soaring to 95 at the end of last month, Broce said.
Since then, the number has plummeted to a new record low of seven Tuesday night, a number that was expected to dip further to just five by Wednesday night, she said.
Lawmakers provided $10 million in the fiscal 2024 state budget to address the hoteling problem. The legislature also passed a bill establishing a uniform process for placing a child in the custody of the Georgia Division of Family and Children Services (DFCS) on a "non-emergency basis" or absent "exceptional circumstances."
Broce said a total of 1,000 to 1,500 foster children have been hoteled for at least one day. About half of those children entered the foster-care system to gain access to services, not because of abuse in the home, she said.
Families often don't know how to navigate the red tape necessary to apply for services on their own, Broce said.
The DHS is working with DFCS to launch a pilot program in 58 counties to help families gain access to treatment and services.
"We're certain we're going to see an immediate improvement," Broce said.
Samantha Walker, director of reunification and safety for DFCS, said the agency's primary goal is to reunite children who have been removed from parental custody with their parents, as long as it's safe to do so.
About 2,500 families were enrolled in the reunification program at the end of June, Walker said. The General Assembly allocated $2.4 million to the program during the last fiscal year.
Sen. Kim Jackson, D-Stone Mountain, expressed disappointment that only 41% of the children who exited foster care in fiscal 2023 have returned to their homes.
But Dena Crim, a lawyer with the DFCS office in Cobb County, said some children have mental health and behavioral issues that prevent their being returned to their parents.
"Reunification is the goal," she said. "But there just are some cases where reunification is not possible."
Broce said while the number of children being hoteled is low for now, it's always subject to going back up.
"Ultimately, we may get to zero when it comes to hoteling," she said. "But there are children where we struggle to find the right place."
The study committee will hold three more meetings this fall before making recommendations to the full Senate to consider during the 2024 legislative session beginning in January.