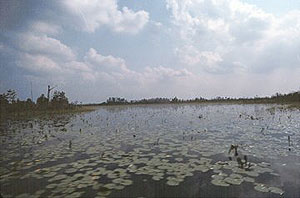 ATLANTA – The National Park Service (NPS) has taken the first step toward a bid to have the Okefenokee National Wildlife Refuge declared a UNESCO World Heritage Site.
The NPS announced Friday it is asking officials at the refuge to prepare a draft nomination for the Okefenokee to become the 25th World Heritage Site in the United States.
The Okefenokee is the largest blackwater swamp in North America. The refuge covers more than 400,000 pristine acres that support hundreds of species of plants and animals, including endangered red-cockaded woodpeckers and threatened eastern indigo snakes. Okefenokee would be the first property managed by the U.S. Fish and Wildlife Service to earn the World Heritage distinction.
"It's thrilling that Okefenokee is finally taking this momentous step toward World Heritage inscription," said Elise Bennett, Florida and Caribbean director at the Center for Biological Diversity. "It's a huge motivator to protect this irreplaceable, international treasure.
"From the towering old-growth cypress to the tea-colored wetlands teeming with amphibians and reptiles, every last inch of the Okefenokee deserves our recognition and protection."
"The Okefenokee National Wildlife Refuge is one of our best examples of holistic conservation in the United States," added Geoffrey Haskett, president of the National Wildlife Refuge Association. "The swamp … sequesters vast amounts of carbon in its wet, peat soils that might otherwise be emitted and exacerbate global warming and climate change – and its list of outstanding attributes goes on and on."
The Okefenokee has been caught up in controversy for the last several years. An Alabama-based mining company is seeking state permits to mine titanium along Trail Ridge near the swamp.
While officials with Twin Pines Minerals say the project would not harm the Okefenokee, environmental groups opposing the mine say it would devastate the swamp by reducing water levels.
Legislation banning surface mining near the Okefenokee was introduced in the General Assembly twice but failed to gain support despite being cosponsored by 91 of the 180 members of the Georgia House of Representatives. However, lawmakers did adopt a nonbinding resolution last year calling for protecting the swamp as a valuable tourism resource.
The National Park Service will work with the fish and wildlife service and other partners in a lengthy process to prepare the World Heritage Site draft nomination. A committee of the World Heritage Centre comprised of representatives from 21 nations will have the final say over the nomination after consulting with an advisory body.