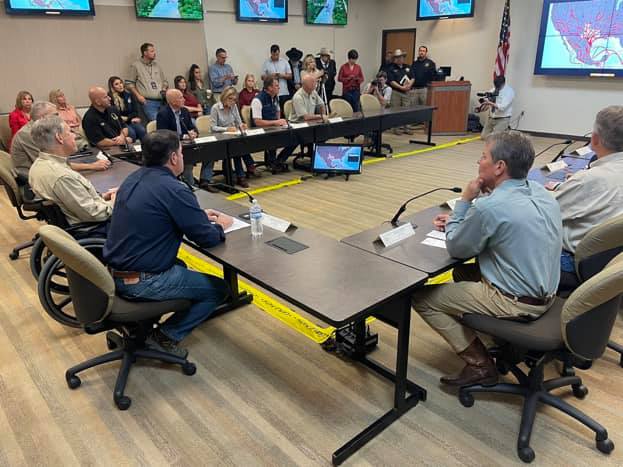 Gov. Brian Kemp (right foreground) attended a briefing on illegal immigration at the Texas border in 2021.
ATLANTA – More than two dozen Republican governors, including Georgia's Brian Kemp, sent a letter to President Joe Biden Tuesday demanding more aggressive action against illegal immigration.
"As a result of your policies which incentivize illegal immigration, our states are carrying the burden of both the years-long surge in illegal border crossings and cartels' coordinated trafficking of drugs and human beings," the governors wrote in the letter, spearheaded by Montana Gov. Greg Gianforte.
"Though we remain committed to addressing these issues, states cannot afford to respond to a challenge of such magnitude while the federal government continues to turn a blind eye."
According to the letter, there have been more than 5.8 million illegal crossings at the U.S. southern
border since Biden took office in January 2021. Another 1.6 million who have crossed illegally evaded apprehension, according to a federal Customs and Border Protection estimate.
Analysts estimate the annual net cost of illegal immigration at the federal, state, and local levels is at least $150.7 billion, the governors wrote.
"As governors, we call on you to provide honest, accurate, detailed information on where the migrants admitted at the southern border are being relocated in the United States, in addition to comprehensive data on asylum claim timelines and qualification rates, and successful deportations," the letter continued.
Democrats, too, have criticized the Biden administration's handling of illegal immigration. New York City Mayor Eric Adams recently called on the president to declare a national emergency that would accelerate the delivery of federal funds to help the city cope with an influx of illegal immigrants now being housed in hotels, homeless shelters and even airports.
The U.S. Department of Homeland Security responded by accusing New York City of lacking a plan for getting migrants out of the shelter system.